Public Transport Network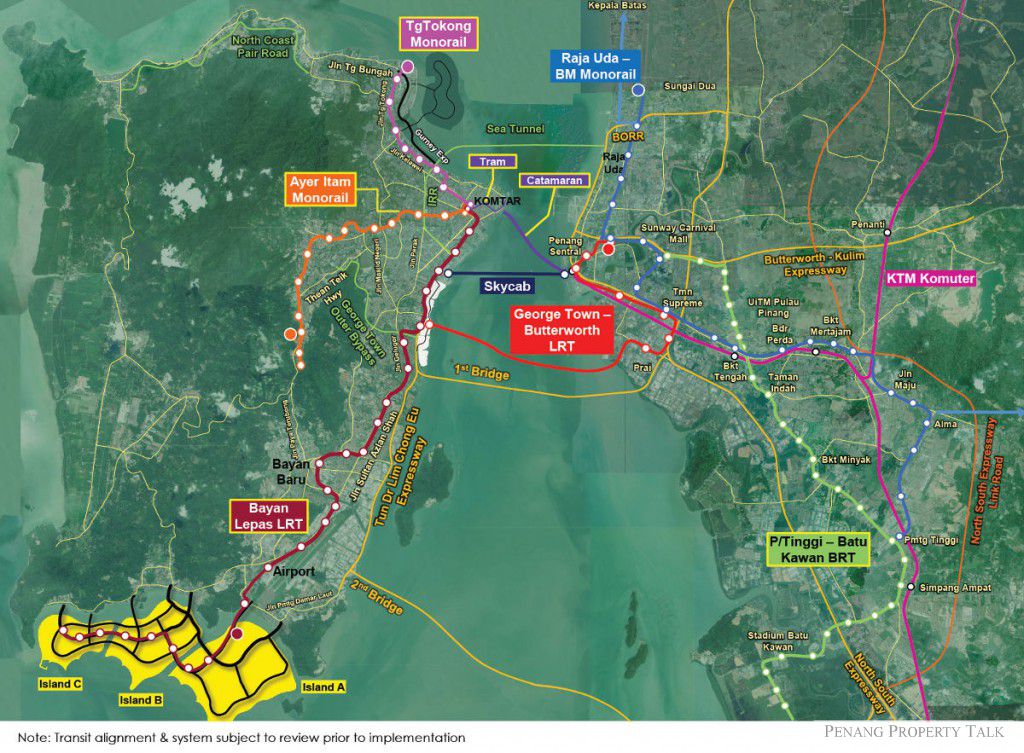 Public transport master plan outlines an integrated transit network with appropriate long ­term capacity to increase public transport adoption in Penang. The public transport strategy is designed to work in concert with concurrent upgrades in the road and highway network as well as others to achieve holistic improvement and higher efficiency in travel experience for the public.
For the Penang Island, four transit lines are proposed:
At the same time, three transit lines are proposed in Seberang Perai to connect with the newly ­completed KTM Komuter line:
The proposal recommends for transit network to not be planned line by line, however each line can be constructed at a different time within the proposed framework. This allows for better integration between current and future lines.
The prescribed systems in the proposed public transport network, though subject to continuous reviews and improvements, would serve to shape foreseeable future transit-oriented developments (TODs) and function as a framework to ensure sustainability of future lines. It is also an essential step in integrating transit with land use planning as part of the Structure or Local Plan process.
With an integrated approach, the entire transit system will operate effectively as a single 'unified' network to provide a seamless and cohesive public transport strategy.
Notably, transit lines slated for future realization are still subject to further feasibility evaluation at the time of execution, taking into consideration travel demand, development intensity, transit system capacity, target modal share and sociopolitical acceptance of appropriate transit system (elevated or at-­grade). Hence, the priority transit line – the Bayan Lepas LRT – will still be subject to public opinion and feedback, as part of the Railway Scheme approval process under the purview of the Federal Government.
* Click here to find out more about Penang Transport Master Plan (PTMP) *