George Town Tram Line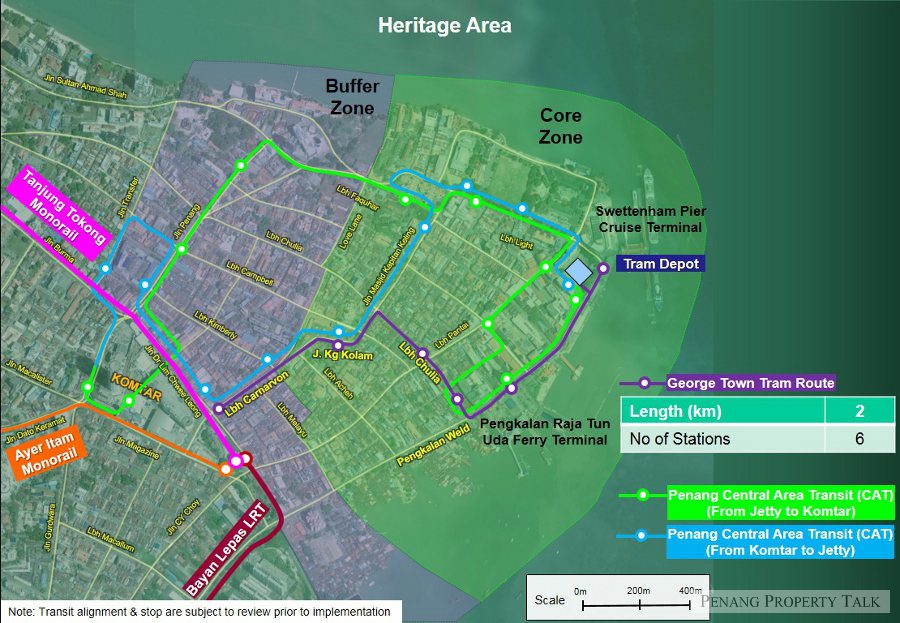 The George Town World Heritage guideline states that the future developments shall not impact or demolish any part of the heritage buildings. In compliance with the heritage guideline, the tram line within World Heritage Site will be at-grade (on-ground) and feeds into the KOMTAR interchange station to seamlessly integrate with the Bayan Lepas LRT and the two monorail lines. Tram is proposed to be the best transit solution to ensure the conservation of the characteristics and unique forms of architecture, culture, and cityscape of the heritage buildings. Therefore, the LRT and monorail systems will accordingly be aligned around the perimeter of the heritage site.
The George Town Tram line is a revival of a pre-independence feature in the historic George Town area, making it a truly unique tourist attraction at strategic points of interest. The almost 2km tram line with six designated stops will begin at KOMTAR and end at the Swettenham Pier Cruise Terminal. Besides providing convenient hop-on hop-off connectivity within the George Town World Heritage zone and complements the CAT e-Bus services, the stop at the ferry enables travellers to reach Butterworth by sea across the Malacca Straits.
* Click here to find out more about Penang Transport Master Plan (PTMP) *