RM20bil projects in Penang South West district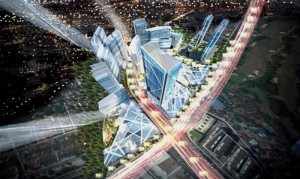 Hunza and Ideal to come up with RM13bil schemes
The south-west district of Penang island will attract RM20bil worth of new residential and commercial projects over the next five to 10 years.
About RM13bil worth of projects are new ones planned by Hunza Properties Bhd and Ideal Property Sdn Bhd, which are large-scale schemes expected to generate thousands of fresh job opportunities.
From Ideal Property, the projects are a RM2.4bil mixed development project on Pulau Jerejak, the RM520mil Imperial Grande in Bayan Lepas, a RM300mil condominium development known as The Rain in Sungai Ara, the RM486mil Queens Residence 2 at Persiaran Bayan Bay Indah, and a RM1.4bil landed property scheme in Balik Pulau.
The projects from Ideal Property will be developed over a five-year period till 2022.
Hunza Properties plans to develop the RM8bil Penang International Commercial City (PICC), a mixed development project comprising condominiums and serviced apartments, a shopping mall, retail outlets, hotels, a business process outsourcing (BPO) tower and a medical centre.
The PICC project will be developed over a 10-year period on a 43.35 acres in Bayan Baru.
The other projects are from IJM Land Bhd and Mah Sing Group Bhd.
IJM Land will start construction work for the second phase of the Light Waterfront project in March 2017.
The second phase has a RM4bil gross development value, which includes the RM240mil Waterside Residence condominium, a convention centre, a four and five-star hotel, retail mall and an office tower.
Mah Sing will continue to develop and launch future phases for its RM3bil Southbay City project on 83 acres in Batu Maung.
Mah Sing has recently completed the Trends Mall@Southbay shopping mall at Southbay City.
It is not surprising that the location continues to draw interest from developers for large-scale projects amid uncertain times.
"The lower pricing of vacant land in the south-west district compared to other parts of the island is a key attraction.
"Development land in the prime location of the district is priced at RM250-RM450 per sq ft (psf), compared to RM800-RM1,200 psf in the prime location of the north-east district," says Raine & Horne senior partner Michael Geh.
The stability of housing prices in the south-west district provides a compelling reason for house buyers to invest in the area.
"When an investor looks for a property to buy, a top consideration is always in the stability and the potential of property prices to appreciate in an area.
"High-rise residential properties with a built-up area of 1,000 sq ft and above are priced from RM450 psf to over RM600 psf, which is more or less the same as in 2013.
"Similarly landed residential properties with a land area of about 1,400 sq ft are priced from RM1.2mil to RM1.4mil and above.
"The interest to launch on the island will ensure that there will be sufficient supply to hold property prices from spiralling upwards," Geh adds.
Ideal Property executive chairman Datuk Alex Ooi says the Pulau Jerejak mixed development project and Queens Waterfront development at Queensbay are the biggest projects the group plans to launch in 2017.
The Pulau Jerejak mixed development scheme is on 75 acres, while Queens Waterfront sits on 26 acres reclaimed land.
"Local buyers are looking for sizeable residential units within a strategically located well-planned scheme.
"From our feedback, high-rise residential units should have a built-up area of over 1,000 sq ft and a price tag of over RM850 psf.
"The masterplan of our new projects is based on the need to have easy access to amenities, sizeable living space and competitive pricing.
"As landed properties are scarce on the island, we plan to launch single-storey terraces on 100 acres with competitive pricing in Balik Pulau over a five-year period," Ooi says.
Ideal Property plans to inject some of its affordable and medium range properties which will be launched next year into Ideal United Bintang Bhd (IUBB), subject to approval from relevant authorities.
IUBB, which is part of Ideal Property Group, is involved in developing medium-range properties.
Hunza Properties managing director Datuk Khor Siang Gin says the PICC masterplan caters to the population growth of the southern part of the island, which is expected to experience 60% growth by 2020, according to the Penang Institute.
"The masterplan incorporates thousands of residential units within a commercial development to be developed in three phases, incorporating businesses that complement the needs of various individuals within the area.
"Upon completion, this self-sustainable city will create about 20,000 jobs within the BPO offices, hotels, shopping mall, retail outlets and medical centre," Khor adds.
IJM Land Bhd (North) senior general manager Toh Chin Leong says the group expects to complete the entire second phase by 2021, four years after construction work starts in 2017.
"By that time we expect the excess supply of housing to ease and purchasing activities to pick up again," Toh adds.
Mah Sing executive chairman Tan Sri Leong Hoy Kum says the group's Southbay City still has unbilled sales of RM3bil, which will be able to sustain the group's growth in Penang for the next few years.
Property review for 2017
The housing industry is facing the possibility of banks imposing higher interest rates, according to Toh, who heads the Real Estate & Housing Developers' Association (Rehda) Penang.
"Interest rates for housing loan is hovering around 4.6%, which is expected to rise in the near future in response to the rate hike in the US and to the higher yield of Malaysian government bonds.
"Since the subprime crisis in 2008, the property market has been propped up by a low interest rate regime.
"Although the banks have tightened the loan conditions, the fact that interest rates are still low makes it possible for borrowers to service the loans.
"Any upwards adjustment in interest rates will have a crippling effect on the whole property market, impacting also foreign interest in local properties," Toh says.
Since the recent budget didn't provide any significant stimulus for the housing industry, Rehda expects transactions for 2017 to remain low.
"Prices of landed properties are expected to hold on.
"Properties within an integrated scheme will continue to capture the attention of investors.
"We are seeing new high rise properties with slightly over 1,000 sq ft of built-up area being launched nowadays," Toh says.
According to Toh, Rehda expects the interest to rent to increase as property prices are high and remain beyond the reach of wage earners due to tight loan conditions.
"To make housing prices affordable, Rehda had proposed to the state government last year to increase the density to 128 units from 87 presently.
"The current density of 87 units per acre entitles developers to build larger apartments with average built-up areas of 1,400 sq ft.
"The proposal of 128 units per acre will allow developers to construct smaller units with built-up areas of 950 sq ft, thus making them more affordable.
"The total built-up per acre will remain at 2.8 times the land area of development.
"The total number of units is still lower than that for the affordable housing schemes, which is 143 units per acre, priced at RM300,000," Toh adds.
Source: TheStar.com.my