New route through the hills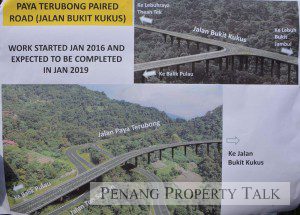 Work on the alternative road linking Lebuhraya Thean Teik in Bandar Baru Air Itam to Lebuh Bukit Jambul in Penang is progressing on schedule.
The 6km-long paired road via Jalan Bukit Kukus is 27.5% complete, said state Local Government, Traffic Management and Flood Mitigation Committee chairman Chow Kon Yeow.
"The project, which began on Jan 15, 2016, is slated to be completed on Jan 14, 2019.
"It will comprise a dual carriageway with a bicycle lane, walkway and LED street lights along the whole stretch," he said during a site visit yesterday.
The current access linking the same two points via Jalan Paya Terubong is 5.2km long.
According to Chow, the number of vehicles using Jalan Paya Terubong now is 60,000 per day.
Once the alternative route is completed in 2019, there will be a reduction of 30% of vehicles using the existing road. Chow said this would eventually reduce to 50%.
He also said that on a normal day, travelling time on the new road would be shorter by 15 minutes compared to the old route.
On another matter, Chow said the revival project of the market-cum-hawker complex in Paya Terubong, developed by Patsifit Construction Sdn Bhd, was 25% complete.
"The four-storey complex will have a community hall on the ground floor, a wet market, dry market and a hawker centre.
"The wet market will have 60 stalls while the dry market will consist of 50 stalls and the hawker centre will have 51 stalls," he said adding that the complex would also have over 80 parking lots.
Chow said the complex, which will be completed at the end of the year, would be disabled friendly.
Source: TheStar.com.my