20 Most Active Projects in Penang (Q2 2016)
It's been a while since we last posted the most active projects. You must be wondering how active was Penang property market in the second quarter of the year.
Based on our web traffic data, PenangPropertyTalk.com unique visitors has increased by 10% from last quarter and a slight increased in the total number of pageviews.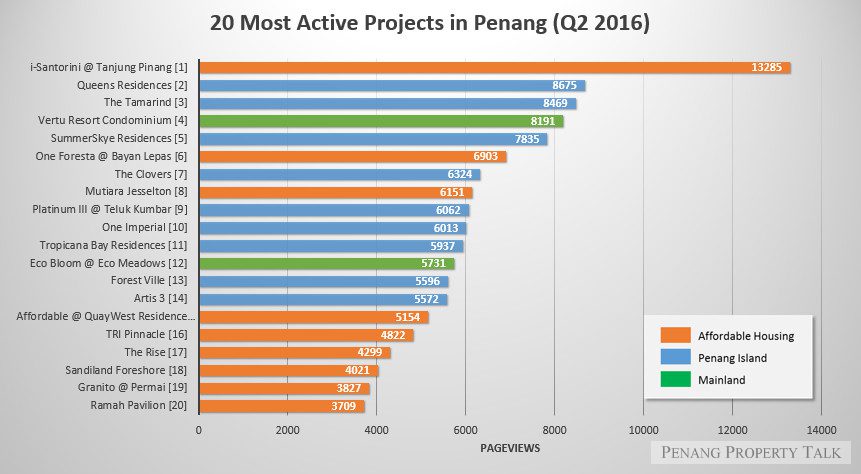 Given its strategic location and the recent approval of APDL, it is not a surprise that i-Santorini ranked top in the list. However, the overall focus has shifted to non-affordable category. This is evidenced in the first half of the list, seven out of ten projects were non-affordable category.
Queens Residences, ranked second, is a waterfront development by Ideal Property Group next to Queensbay Mall. It was first introduced in Q1 and has since become one of the most popular projects in South West District of Penang.
The Tamarind, a popular project by renowned developer – E&O Property in Tanjung Tokong since December 2014, has been in the top 3 for the past one and a half year and registered a total of more than 127,000 pageviews since the first day.
Eco Bloom, one of the very few mainland projects in the top 20 list, is the latest addition to EcoWorld's maiden project – Eco Meadows. Offering 490 residential units in two 33-storey condominium towers with size ranging from 800 sq.ft. onwards.
The upcoming affordable housing near Penang Turf Club, Mutiara Jesselton, has attracted increasing attention since it was first publish on 29 June. Indicative price starts from RM150,000 onwards. The project has received more than 6,000 pageviews within two days. At current rate, it is likely to be the most active project in Q3.
* Projects are ranked based on the pageviews recorded in Google Analytic web traffic report for PenangPropertyTalk.com.
– Ken Lim
(Founder and Principal Reviewer, PenangPropertyTalk.com)