The Property Cycle (Repeat Process)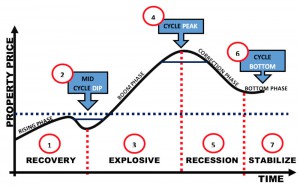 by Anders Ong
Sometimes some people earn more in property investment and sometimes some people just making lost in the market. Some are pure experts and some are pure luck if we had bought properties during the boom time every single person can also be an expert and boast about it. But, the era had past or do it really past forever?
We might know some of our friends whom had earned millions and we might have friends whom are saying property investment isn't profitable. This goes to the simple theory of Property Cycle, it is the periodical and sequential cycle of property where there price goes up and goes down; in a nutshell, TIMING. Property cycle happens due to the economic principles of Supply and Demand influenced by the political, demographic, economic and social economic factors. The demand of property will always increase in the current era due to the growth of population and limited supply of land for property development.
The property cycle happens from time to time but it does take quite a long time to complete a perfect cycle which can range up to 10 – 30 years in some countries and this is the reason no one ever notices it or forgot as it took quite a time and an amateur investor could turn into professional investor for such a long period of investing.
The First recorded studying of property cycles was Homer Hoyt in 100 Years of Real Estate Values in Chicago and popularised by the 18 Years property cycle developed by Economist Fred Harrison, they are the first few people to identify the existence of property cycle. Fred concluded that the length of a full property cycle averages out to 18 years at max and divided into 4 distinctive stages.
Basically, there are TWO trend and FOUR stages of property cycles:-
Up – Cycles Trend
#1. RECOVERY of Market – During this stage, the market is gaining more confidence in the property buyer market. Rental rates started to rise, time took to sell off a property reduced, property price and property value increase. Banks are hungry and ease their lending criteria and approve more credits.
#2. Mid Cycle Dip – Once the market started to recover there will be a small mid-cycle dip as some earlier investor take profit before the explosive phase of the market
#3. EXPLOSIVE of Market – Bank interest is low and easier for approval, buyer sentiment increase, media perception are positive, property price increase at a more rapid rate and rental continue to increase. Property will be sold above their market value and vendor keep on increasing their prices for more profits. Every explosive stage also brings in more new young generations of investors into the market due to greed-driven by seminars and property guru. Many people will borrow against their increased house value and buying consumer products. Even seasoned property investors will also be driven as they worried they will missing out the boat. (Seller Market)
#4. Cycle Peak – This is the final few years of the explosive phase, where price had to reach the peak of the property cycle which the economist Fred Harrison named it as the "Winners' Curse". It is definitely not lucky to buy the highest priced property during the peak as the next phase of the cycle will be a downturn phase. Most property bought at this peak will be valued lower or worth less than the price paid later on. This happens due to property prices risen too quickly or unaffordable to the market, high growth of liability and credit due to heavy borrowing, overconfident of developers in sales and led to oversupply, and more speculators whom are looking for a quick property flip of fortune.
Down – Cycles Trend
#5. RECESSION of Market – Market stage is characterized by oversupply, decreasing growth, price plummet, more seller and fewer buyers, harder to get loan, home harder to sell, past buyers over-leveraged, increased vacancies, increase auction market, reduced cash flow or rental, and bad media perception with daily dose of oversupply and auction news. This is also the result of a rapid supply of developers' stocks and sellers in the boom phase. Property prices could stagnate or even drop due to purchases at the boom period which people could not afford so they had to sell at depressed prices. (Buyer Market)
#6. Cycle Bottom – This stage of property cycle reflects the lowest stage of the cycle where most property prices are low, stagnant and rock bottomed but no one is buying due to the negative sentiment, oversupply and loss of money from sales during the recession.
#7. STABILIZE of Market – Falling bank interest rate and Bank Negara Over Night Policy (OPR) rates, ease of lending rules and policy, prices may remain flat and move up slowly. There are more and more government initiatives and interventions on the property market to encourage take up rate, economy and homeownership.
Summarization on investing through the property cycles timing:
Recovery phase prices usually start higher than the last recovery prices.
The property cycle has different time variance in different country.
It is normal for property prices to go through the up and down.
Buy at the bottom of the cycle and sell at the top of the cycle.
Do not over leverage at the peak point of property cycle.
Do not panic sell when price are dropping.
Be a seller when everyone is buying
Be a buyer when everyone is selling
Do not mislead by the media.
In a nutshell, understanding of the periodical property cycle can make us a better investor and have more understanding of current property market health by looking at market signals. There would be nothing to be worried of during market recession and there would be nothing to be excited during the market explosive.
Anders Ong – Speaker, Property Consultant, Young Property Investor and Author of Back To Property Investment To Create Wealth