Affordable housing should meet high quality standards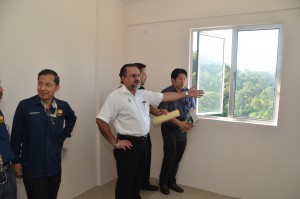 Penang State Housing, Town, Country Planning and Local Government Committee chairman Jagdeep Singh Deo stressed that the provision and supply of affordable housing in Penang should meet the standards and quality of housing.
Jagdeep said each of the State Government housing projects built either low cost (LC), low medium cost (LMC) or affordable housing (RMM) provided by the Penang Development Corporation (PDC) or private developers would need to meet a high level of quality standards.
"When it comes to providing affordable housing to the people, it means a comfortable and quality housing scheme with a conducive environment to ensure a better life.
"As such, we (the State Government) have directed PDC as the developer responsible for the state housing projects to ensure that each project being developed is in good condition before the key is delivered to the buyer," he said. Assemblyman Datuk Keramat while on a working visit to two Residential affordable housing projects in Teluk Kumbar yesterday morning.
He reiterated that he had received a lot of complaints from buyers of affordable housing projects near S.P.Chelliah.
To ensure quality standards are adhered to, Jagdeep has announced that he will hold a meeting with representatives of private developers responsible for developing affordable housing in the near future.
"Due to the (S.P.Chelliah) issue, I have decided to meet with all the responsible developers to ensure that affordable housing projects under the State and private governments will not have the same problem.
"I will hold discussions with them (private developers), we (the State Government) will give warnings again so that all guidelines and quality are met.
"If they want to use the incentives for the construction of affordable housing (the State Government), they must first ensure that the quality of the final product developed is top notch" he said.
It is understood that Duo Residensi comprising 346 low-medium cost, 348 affordable and seven commercial units have been completed by the PDC and are awaiting approval from relevant departments before the CCC is expected by December.
Jagdeep further said that the Duo Residensi project is also expected to receive Qlassic score from CIDB Malaysia.
"The PDC's Suria 1 housing project in Cassia, which has been developed by PDC, has received a 74% Qlassic score, so the project (Duo Residensi) is expected to be the same after the CCC is obtained.
"Qlassic is a benchmark in determining the quality of construction as well as measuring the performance and quality of developers," he said.
Source: Buletin Mutiara