Penang affordable home onwers unhappy over defects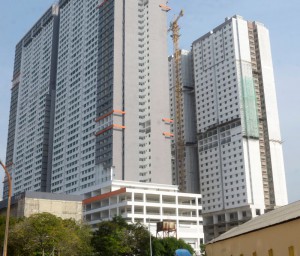 Some buyers of affordable homes along Jalan S.P. Chelliah here are most unhappy with the state of their new properties.
According to a report by The Star today, the owners of the new homes were confronted with "bust water pipes, unpainted bedroom doors, windows that cannot opened fully and water puddles in common areas".
An owner named Chan told the daily that "water marks have formed on the wall and I can see water seepage".
"The finishing near the windows leaves much to be desired.
"The common areas are another problem with water puddles and burst pipes," Chan added.
Another owner known only as Lee said there "were leaking and burst pipes in her toilet".
"My friend cheekily told me that it's good feng shui to have a fountain in the toilet," she said.
But one owner said he was satisfied with his unit.
"It's now very difficult to get a 800 sq.ft. unit at RM200,000 in the city.
"I am very happy and have no problems," he said.
The man also added that his friends, who also bought affordable housing units, shared that "some defects are normal".
The homes are reported to be part of the state government's affordable housing project managed by the Penang Development Corp (PDC).
Records show that PDC "awarded the tender to Zubicon Sdn Bhd to build 2,093 units of affordable housing known as Chelliah Park City".
It comprises 770 low-medium cost units of 700 sq ft priced at RM72,500, 883 medium cost units of 800 sq ft priced at RM200,000, 165 units of 900 sq ft priced at RM300,000 and 275 units of 1,000 sq ft priced at RM400,000.
Zubicon managing director Lim Beng Keong told English language daily that "all unit owners would be serviced by its in-house team to rectify any defects".
Meanwhile, State Housing Committee chairman Jagdeep Singh Deo said: "The contractor has to make good the defects. That's the law."
Source: EdgeProp.my