20 Most Active Projects in Penang (Jan – Apr 2019)
It's been a while since we last posted the most active projects. Many people have been asking how is the property market sentiment in Penang with all the negativity around the residential overhang situation.
According to our web traffic analytics, PenangPropertyTalk.com has recorded an increase of approximately 15% in pageviews to 1.16 million for the first 4 months of 2019, up from 1.01 million in the same period a year ago. This is an indication that people's interest in Penang property remains strong, while the huge overhang is reflecting a mismatch between the supply and demand of house price and location.
Below is a list of 20 most active projects in the first four months of 2019. As indicated, half of them are affordable housing projects.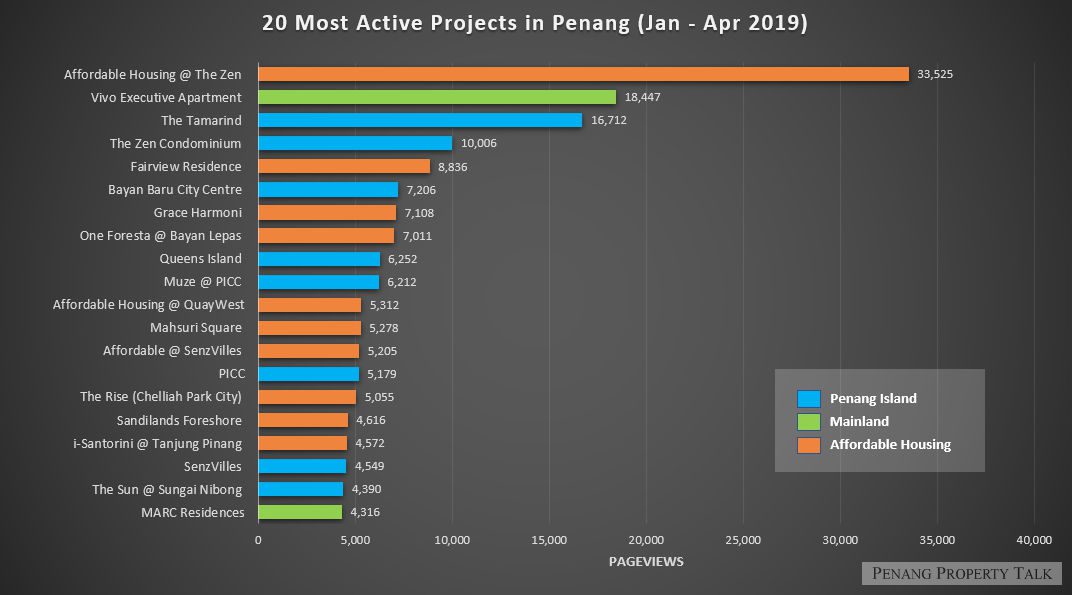 Top in the list is the affordable housing at The Zen condominium with a whopping 33,525 pageviews in early 2019. This project is part of the mixed development by Asia Green located next to Tun Dr. Lim Chong Eu Expressway. Comprising around 2,000 condominium units in two 46-storey residential towers, 1,200 units of which are categorized under affordable housing. It is almost sold out now.
This is followed by Vivo Executive Apartment which was introduced less than 2 months ago by Aspen Group at Batu Kawan. It is probably one of the lowest priced housing projects in Penang (excluding affordable housing) with an indicative price of RM238,000 onwards. The 1,400-units apartment was fully booked within 2 weeks.
The Tamarind, ranked third in the list, has always been the top 3 most active projects of the year since its introduction in 2015. This 1,104-units executive apartment by E&O Property has continued to draw active discussion as the keys are handed over to the owners this year.
Apart from Vivo Executive Apartment, MARC Residences at Jalan Song Ban Kheng is the next project in Mainland which also make it to the top 20 list. This project stands out with its dual and tri-key concept, which offers the flexibility of generating passive income.
A few popular upcoming projects to take note include Bayan Baru City Centre, Queens Island and Muze @ PICC.
* Projects are ranked based on the pageviews recorded in Google Analytic web traffic report for PenangPropertyTalk.com.
– Ken Lim
(Founder, PenangPropertyTalk.com)