Penang's major highway project approved by DOE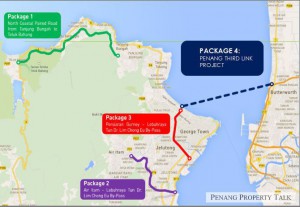 The Department of Environment (DOE) has approved the construction of the three-paired highways across the island.
State exco for Public Infrastructure Zairil Khir Johari said the DOE has approved the Environmental Impact Assessment (EIA) report with 59 additional conditions attached.
In a joint press conference with the delivery partner – Consortium Zenith Construction Sdn Bhd, Zairil said the contractor has to abide by the terms and conditions and the state will also monitor the progress of construction work.
The conditions involve building additional mitigation measures such as drainage, including a storm tunnel to mitigate the intensity of rainfall.
Zairil said the DOE has instructed Zenith to be mindful of the climate change phenomenon in terms of rainfall and water flow.
Additional remedial measures were also imposed on erosion, hillslope stability, explosions, waste management, and an environmental audit.
The three paired highways are the Tanjung Bungah to Teluk Bahang (10.53km) route, the Air Itam to Tun Dr Lim Chong Eu Expressway route (5.7km), and from Gurney Drive to the Tun Dr Lim Chong Eu Expressway (4.075km).
Penang will commence with the second phase (Air Itam to the Expressway) first; by the first quarter of next year, with the total completion for the three roads scheduled within the next six to nine years.
Zairil said the EIA has compelled Zenith to offer an alternative traffic route during the construction period.
He said the state was prepared to engage with any quarters, who continue to have misgivings about the project.
Essentially, the roads would reduce travelling time between Tanjung Bungah to the touristy belt of Batu Ferringhi and to allow people to travel from Gurney Drive to the Bayan Lepas International Airport within 20 minutes.
Source: TheSundaily.my