Penang to transform Gurney Drive into a must-see attraction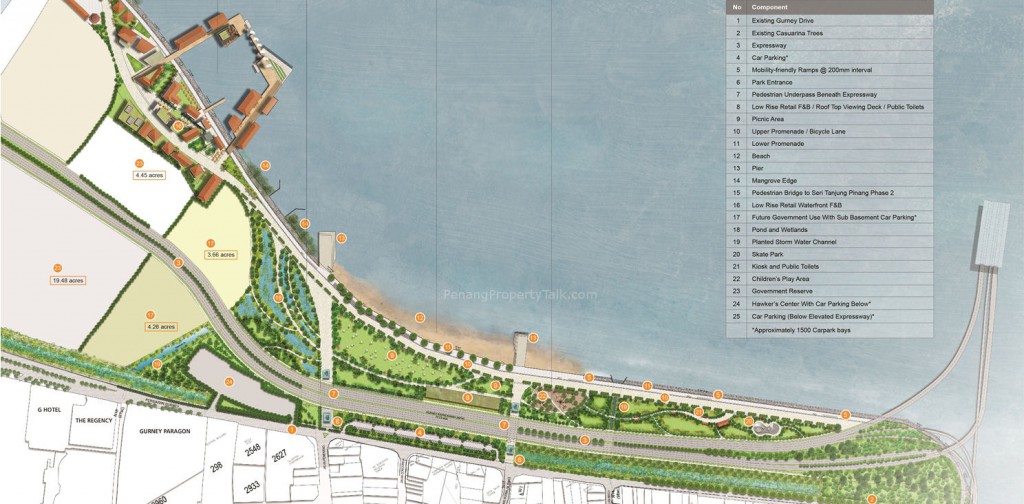 Gurney Wharf, a world class "park-on-the-sea", is going to be even better than initially planned.
The state government is planning to transform the place into "the pride of Penangites" with seaside retail outlets, F&B aplenty, water gardens, and beach and coastal grove on the 24.28ha plot of reclaimed land.
"We have always been planning for Gurney Wharf to be world-class but now, we want it to be even more than that," said State Town and Country Planning Committee chairman Jagdeep Singh Deo.
In the weeks after the elections, Jagdeep said his department met the project's architects and consultants several times to explore more packages.
Jagdeep refrained from disclosing what gems are being thought up, explaining that "the consultants gave us so many packages and concepts to choose from and we haven't firmed up our selections".
"We are aiming to see Penangites getting as much as possible out of this," he said.
It was reported in 2016 that the proposed seafront public recreation area would be created on the plot of reclaimed land, using concepts inspired by internationally acclaimed parks.
The initial concept involved four distinct features – a seaside food and beverage area, water gardens, as well as a beach and coastal groves spanning some 1.5km of shoreline.
"This will be the best public recreation project after Penang City Park," Jagdeep said in an interview.
In the aftermath of the racial riots of May 13, 1969, the 16ha Penang City Park (then called Youth Park) was conceptualised a year later and completed in 1972.
In the Penang Monthly, a periodical published by the state's policy think-tank Penang Institute, Datuk Anwar Fazal wrote last year that Youth Park was conceived after the race riots because "young people should have more places to play as the streets were not so safe".
Anwar, who was then the private secretary of ex-chief minister, the late Tun Dr Lim Chong Eu, recalled that when he put forth initial plans for the Youth Park, the riots were still fresh on everyone's minds.
So, Youth Park was planned as a way to celebrate Malaysia's multi-cultural heritage, he wrote.
"I wanted to make it not only inter-generational, but also with a diversity of activities and adventures while keeping the green setting," he wrote.
Over the decades, Penang City Park never stopped growing. More facilities were installed, with the latest being graffiti walls for youths to express themselves through art.
Jagdeep said it was "ironic that another new public domain was being created to mark a big chapter in Penang's history".
"We want Penangites to know how well we are doing now at the governmental level. The last 10 years, we suffered problems dealing with the federal government.
"The state is heading for better times and we will let Gurney Wharf show it.
"There are few places that mean as much to Penangites as Gurney Drive. We all grew up loving the place as a beautiful beach over 40 years ago and then as a hawker food and shopping paradise.
"The present Gurney Drive itself is on reclaimed land and with the new reclamation, we will make it something to be proud of," he said.
The developer, Tanjung Pinang Development Sdn Bhd, said in a statement that the reclamation of the Gurney Drive foreshore was 40% complete and foresees that it would be completed as scheduled by the end of this year.
Source: TheStar.com.my