10.5km road tunnel in Penang as part of Pan Island Link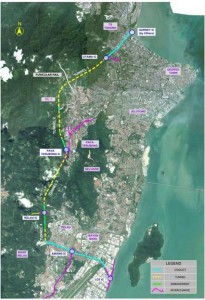 The state government today announced an ambitious project to alleviate traffic congestion on the island, which will be undertaken through a 10.5km-long tunnel that will cut through hills and is part of the Pan Island Link 1 (PIL 1).
Chief Minister Chow Kon Yeow said the project will be challenging task, as apart from the 10.5km tunnel, it would also cut through several hill slopes.
Amongst the hill slopes involved are Bukit Bendera, Paya Terubong and Sungai Ara.
"When we build the tunnel, we believe the environmental impact will be similar to that building a highway through the hills," he said.
Chow hopes that the public would review the report prepared by the consultant appointed by the state government.
The report can be referred by the public at 10 locations including National Library, Environment and Natural Resources Ministry in Putrajaya, Penang Island City Council (MBPP) apart from Department of Environment (DOE) and state government's website.
"After receiving the feedback from the public, the consultant and the state government will provide explanations on the raised issue to the DOE," he said.
The 20km PIL 1 is part of the three main roads which was included in the PTMP.
It is expected to reduce travelling time from Persiaran Gurney to Penang International Airport (PIA) to only 15 minutes, compared to current travel time which takes between 45 minutes to one hour.
Chow was speaking after visiting the Environmental Impact Assessment (EIA) report for PIL 1 which was set up for public display for 30 days from July 11 to August 30 this year.
Meanwhile, he said the state government might seek funding assistance from the Federal Government if the proposal to build three man made island at the southern part of the island, dubbed Penang South Reclamation (PSR) were not approved.
He said it would be the its last resort by the state to ensure Penang Transport Master Plan (PTMP) would materialise.
"If the man made island are not approved, then we will be forced to request the Federal Government to bear the financing of the PTMP.
"However we have not come the stage to think other funding modal. Everything is under control,
The Penang government plans to reclaim three man-made islands to fund the ambitious PTMP and has appointed SRS Consortium as the project delivery partner.
The PTMP project which was first announced in 2015 consist of light-rail transit (LRT), undersea tunnel and three paired highways.
The project will be funded through the reclamation of three man made island with the size of 809 hectares, 526 hectares and 324 hectares respectively for industrial, housing and commercial purposes.
Source: NST.com.my