Pan Island Link 1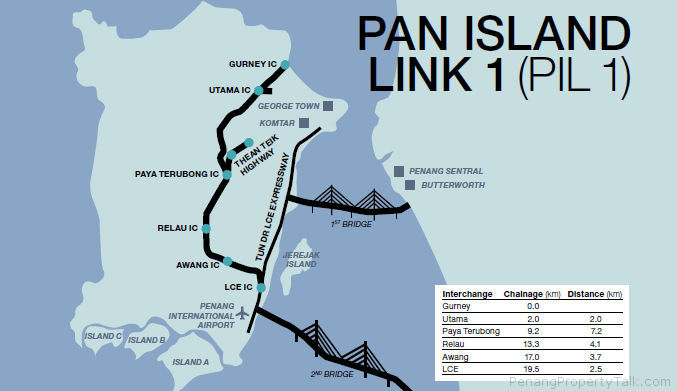 A new 20km highway, the Pan Island Link 1, is proposed to alleviate the heavy traffic load on the Tun Dr Lim Chong Eu Expressway (LCE) and adjacent arterial such as Pengkalan Weld, Jalan Masjid Negeri, Jalan Jelutong and Jalan Sultan Azlan Shah. Given that little can be done to improve conditions on the LCE, the solution is to provide a second North–South spine road.
It also addresses the strategic importance of traffic dispersal from the newly-­opened Second Penang Bridge and the future undersea tunnel.
It will be able to accommodate potential increase in travel demands from the enlarged Penang International Airport, expansion of the Bayan Lepas industrial zone, and the proposed reclaimed islands in the Southern Coast of Penang Island.
It is designed with six interchanges to link highly-populated areas and transport hubs on the island from the Second Bridge and the Penang International Airport all the way towards George Town, Paya Terubong, Bayan Baru, and Relau.
PIL1 will be a dual three–lane purpose-built highway with limited points of access to ensure certainty in speed and travel time over the entire length of the highway. The alignment along the mountainous terrain also avoids the possibility of congestion caused by future developments.
The proposed highway will be built beyond the developed periphery of George Town, to disperse traffic away from it rather than force traffic to converge in the extended parts of the city.
The PIL1 would not only allow better traffic dispersal but also improve accessibility to various areas along the north–south corridor of Penang Island. Upon completion, it will be able to significantly shorten north-south travel time to only 15 minutes from Gurney Drive to the airport, favorably compared with the current 45 minutes required under normal traffic conditions on the LCE.
* Click here to find out more about Penang Transport Master Plan (PTMP) *