Penang has its own unique demand, pricing and prospects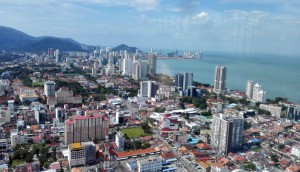 Penang-based property developer Asas Dunia Bhd said the Government's blanket freeze on properties worth RM1mil and above is not the solution to the rising unsold properties in the country.
Its managing director Datuk Jerry Chan said: "A blanket freeze is not practical as each location, either within a city or state, has its own unique demand, pricing and prospects."
Chan, who is also the immediate past chairman for the Penang branch of the Real Estate and Housing Developers' Association (Rehda) said instead of a blanket freeze, a study needed be done to determine what type of properties remain unsold and for how long.
"Track the numbers closely as to where they are located, their price points and why there is no demand for them," he said. "This is a more positive move than a blanket freeze," he said.
Chan was commenting on the federal government's move to freeze luxurious property developments announced in late November by Second Finance Minister Datuk Seri Johari Abdul Ghani as a result of a decade-high of unsold properties in the country and the oversupply of office and shopping mall space.
The move followed a Bank Negara report on the glut of unsold real estate in the country. The unsold and unutilised properties include high-rise residentials, mall and office space.
Bank Negara said up to 130,690 units of residentials were unsold in the country as at the first half of 2017, close to double the historical average of 72,239 units a year between 2004 and 2016.
These unsold properties included units which are completed but unsold, technically known as an overhang, as well as units which are unsold during construction and small offices/home offices which are built on commercial land but with a housing element to them.
The figure of 130,690 varied markedly from the National Property Information Centre's overhang of 20,876 units, a rise of 41% from 14,792 as at the end of 2016.
Another Penang-based developer Ideal Property Development Sdn Bhd said the federal government should allow market forces to decide.
Its executive chairman Tan Sri Alex Ooi told StarBiz that there were a number of such projects planned on reclaimed land strategically located on the island.
"With the freeze, these developers would not be able to pursue their business plans to sell to overseas investors.
"However, they would still have to service the bank loans for their land bank. So the move would hit hard at them and the overall construction industry," Ooi said.
Ooi said if developers felt they could successfully market their high-end products to overseas investors, they should be allowed to take the risk (of building units priced RM1mil and above).
"However, we fully support the move to freeze the development of new shopping malls and office buildings," Ooi added.
Eastern & Oriental Berhad (E&O) managing director Kok Tuck Cheong said the group was waiting further clarity on the matter.
"We would like to reiterate that E&O remains invested in the communities it operates in. As a responsible developer, we will continue to ensure that our offerings cater to the cross-section of society," he said.
Property consultancy Raine & Horne (Malaysia) senior partner Michael Geh said the freeze on residentials priced RM1mil and above would impact Penang significantly, as there are many high-end projects planned on the island that falls under that segment.
"There are also some new projects priced above RM1mil being planned in Batu Kawan," he said.
There are developers who are unaffected by the RM1mil freeze as they have moved into the affordable segment range, Mah Sing Group being one of them.
Its senior chief operating officer Seth Lim said the new ruling would not affect its recent launch in Southbay, which is M Vista, priced from RM345,800 onwards.
"Southbay's overall masterplan has already been approved.
"Nevertheless, we conduct market studies before we launch any new projects in order to ensure that we are meeting market demand," Lim added.
Penang Master Builders & Building Materials Dealers Association's (PMBBMDA) immediate past president Datuk Lim Kai Seng said construction jobs for high-end residential properties made up about 20% of total contracts given out to members in Penang.
"Most of our members are involved in the affordable and medium-pricing projects, those priced between RM250,000 and RM750,000," he said.
As for malls and office space, he said there are "very few" shopping mall and office projects in Penang nowadays.
Currently, as a result of the shortage of new projects, the cost of construction dropped slightly by about 5%.
"The new measure would cut the supply of new high-end projects into the market and reduce further the cost of construction," he added.
Source: TheStar.com.my