Discover Balik Pulau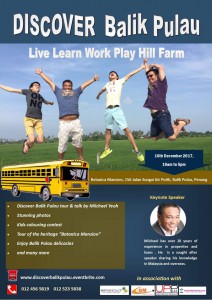 GM Training Academy will be organizing "Discover Balik Pulau", a holiday event at Botanica Mansion on 16th December 2017.
Event highlights:
Discover Balik Pulau Tour
Balik Pulau talk by Miichael Yeoh
Botanica Mansion heritage tour
Kids Coloring contest (Please bring you own coloring set)
Goats Farm
and many more
At Discover Balik Pulau tour, you will go through the history of Balik Pulau ,attractions, the upcoming development and also projects showcase.
* For Discover Balik Pulau tour please be there by 10.30am. The tour will take approximately 2 hours.
Click here to register for the event
After lunch, Miichael will be talking on "The future of Balik Pulau". Facts and findings will be revealed on the day itself.
Balik Pulau because this is the only place where you can experience "live,learn,work,play,hill and farm" at the same time. Yes, you can experience paddy field, goat farming, rabbits, fishing village, Balik Pulau Food and many more.
Date: 16th December 2017
Venue:
Botanica Mansion,
Jalan Sungai Air putih,
Balik Pulau, Penang
Time: 10am – 6pm
[Sponsored Ad]