RM220K affordable state housing at Batu Kawan only 25% sold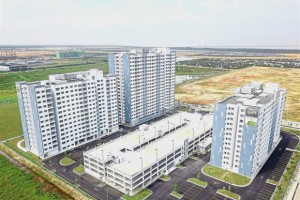 Work on the Suria 1 affordable housing project in Bandar Cassia, Batu Kawan, comprising 520 units by the Penang government has been completed.
The project, which comprises three blocks of medium and low medium-cost units, is the first phase of the 25-stage plan to build 11,800 residential units and 200 shop lots.
It was reported that the three blocks were built within 2.6ha land with a gross development value of RM86.9mil.
State Housing, Town and Country Planning Committee chairman Jagdeep Singh Deo said the project, which started in July, 2014, was waiting for the Certificate of Completion and Compliance to be issued by end of this year.
"I understand that 86% of the project's Type B (RM72,500) and 73% of Type C2 (RM168,000) have been sold.
"But 273 units of Type C3 (RM220,000) with 1,000 sq ft space are still available as only 25% had been sold," he said recently.
He added that the whole project was expected to be completed in the next 15 years.
"A total of 20 phases are for residential development while five phases will comprise facilities.
"So far, the food court complex under Phase 2 and a surau under Phase 3 have been completed," he said.
Source: TheStar.com.my