Sunway has a big plan for Penang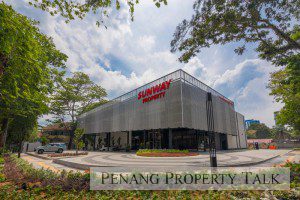 Master Community Developer, Sunway Property, unveiled its Sales Gallery and Regional Office strategically located at Jalan Anson in the heart of Georgetown, which is the first sales gallery to be certified Green Building Index (GBI) Gold in Penang.
The official opening was graced by Sunway Group Founder and Chairman, Tan Sri Dato'Seri Dr Jeffrey Cheah AO, Penang State Exco Member for Local Government, Traffic Management and Flood Mitigation, Yang Berhormat Chow Kon Yeow, and Mayor of City Council Of Penang Island, Yang Dipertua Dato' Maimunah. The special guests were accompanied by the Sunway management team in officiating the event.
Sunway began its journey in Penang in 1992 with its property development, hospitality and retail division. Its unique 'Build-Own-Operate' business model has powered the multiple divisions in Penang, making it the largest co-investor in integrated developments whilst upholding a lifelong commitment to grow alongside the Penangites.
Sunway Group Founder and Chairman, Tan Sri Dr Jeffrey Cheah AO said, "The opening of this new sales gallery and regional office, Sunway Penang @ Anson, is a reflection not only of our substantial contributions to Penang in the past and present, but a clear indication of our future aspirations."
"We have helped promote Penang as a tourist destination. We have created jobs and contributed to Penang's economic growth over the decades. Sunway has also been very active in our CSR outreach, helping local communities in their time of need through our many social programmes and financial contributions," he added.
The first integrated city by Sunway in Penang, Sunway City Seberang Jaya, will be expanded and enhanced phase by phase over the next 5 years. It will be developed along the blueprint of other Sunway developments, namely, Sunway City Kuala Lumpur, Sunway City Ipoh and Nature's Capital City, Sunway Iskandar. Sunway City Seberang Jaya will be incorporated with elements that are vital for building sustainable communities and for future generations to thrive. As such, delivering sustainable value creation is the heart and soul of everything that Sunway does.
The mixed development will be home to Sunway's first healthcare centre in Penang, Sunway Medical Centre, a 400-bed hospital which will be built over two phases. The centre will be equipped with advanced facilities and expert medical professionals to cater to the needs of the local community. In addition, Sunway has built collaborative ties with global institutions including Harvard Medical School, Cambridge Medical School, Oxford University and Jeffrey Cheah School of Medicine and Health Sciences, Monash University to bring top quality healthcare to this part of the world.
Sunway will be expanding its portfolio on the island through the next integrated city, Sunway Valley City, located in Paya Terubong, consisting of residential, commercial, retail, education and healthcare components. Many of these components will be owned and operated by Sunway, making the Group a "co-investor" in the township together with the buyers of the Group's residential and commercial assets.
The company is also bringing in its education division to Penang to provide local students here with world class education.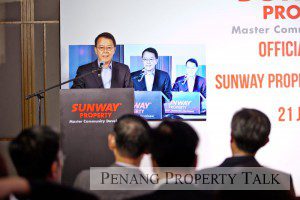 Tan Sri Dr Jeffrey Cheah AO said, "We are also expanding our education division to Penang, making quality higher education accessible and affordable to the local community. We are not just a property developer but a master community builder. We care for society and are committed to enriching the lives of our communities. In fact, I have transferred the ownership of all the 16 educational institutions of Sunway Education Group worth over RM1 billion today, in perpetuity, to the not-for-profit Jeffrey Cheah Foundation."
The Jeffrey Cheah Foundation (JCF) was introduced in 2010 under the patronage of HRH Sultan of Selangor where it provides scholarships to the deserving and needy students. JCF has thus far given out more than RM270 million worth of scholarships. In October this year, another round of scholarships worth RM58 million will be distributed.
JCF further reiterated its commitment to sustainability by gifting US$10 million to the United Nations Sustainable Development Solutions Network, establishing a strategic collaboration working towards achieving the 17 Sustainable Development Goals (SDGs), adopted by members of the United Nations in 2015. The Jeffrey Sachs Center on Sustainable Development at Sunway University, will be a regional hub for advancing sustainability, and is led by Jeffrey Sachs, a world-renowned economics professor and leader in sustainable development.
Sunway Property Penang has also collaborated with the Penang State Museum and Penang State Art Gallery to support the arts through heritage conservation and arts promotion. Stemming from this collaboration, the company launched "City Walker", created by Penangborn sculptor, Mr. Low Chee Peng with the theme, 'Community Building' which represents their pledge to grow alongside the community, as well as their commitment to continue to be part of Penang's sustainable growth.
As a Master Community Developer, Sunway Property continues to build a strong brand with an unblemished track record. The company will provide buyers more assurance of its fine workmanship, excellent customer care service and on-time delivery. Driven by a strong management team with sharp business acumen and unwavering belief in sustainable business practices, Sunway Property looks forward to transforming its existing land bank into new award winning developments and building properties that buyers will aspire to stay, work and play in.