Sunway College to be built at Sunway Valley City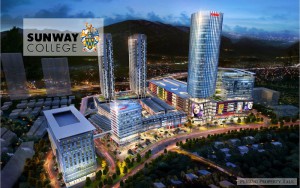 Sunway Bhd is set to launch various projects with a total gross development value (GDV) of RM5 billion in Penang over the next 10 years.
Sunway Bhd Property Division for Malaysia and Singapore Managing Director Sarena Cheah said of the amount, about RM2 billion would be for long-term investment projects, including malls and hotels.
She said one of the company's major development plans on Penang island would be the Sunway Valley City, a RM2 billion integrated project in Paya Terubong.
The mixed-development project, spanning over a 24-acre site (9.7 hectares), is divided into four phases, comprising shop offices, a service apartment, a shopping mall, an education institute (Sunway College), an office tower and a medical centre, she told reporters at the launch of Sunway's new headquarters for the northern region in Anson Road here.
"Sunway Valley City is expected to change the landscape of Air Itam and Paya Terubong. We hope to provide something exciting for the population there, where they do not need to travel out for leisure and entertainment," she said.
On Sunway's projects on Penang's mainland, she said the group would expand and enhance the Sunway Carnival Mall in Seberang Jaya over the next five years.
She said the mixed-development project in Seberang Jaya would include the 400-bed Sunway Medical Centre, Sunway's first healthcare centre in Penang, which would be built in two phases.
The first phase of the medical centre will have 250 beds and will be equipped with advanced facilities to cater to the needs of the local community, she said, adding that the groundwork would begin once the group obtained its approvals and it would take up to three years to be completed.
Another project on the mainland is the Sunway Wellesley in Bukit Mertajam, for which the group expects to launch the third phase of 10 units of shops in September, she added.
Sunway Property in Penang has a total land bank of 165.9 hectares to date and has developed more than 2,500 residential homes and commercial units both on the island and mainland since its inception in 1992.
Source: Bernama