Prioritise high-density areas for LRT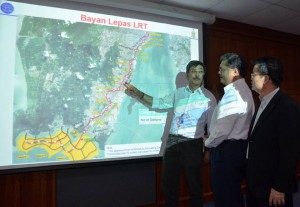 The proposed Penang LRT should go through more high-density areas, said Real Estate & Housing Developers Association Malaysia (Rehda) Penang branch deputy chairman Datuk Toh Chin Leong.
He said this was to ensure that the mega project would not run at a loss.
"Priority should be given to areas like Bandar Baru Air Itam or Queens-bay," he said at a question-and- answer session after a briefing on the RM27bil Penang Transport Master Plan (PTMP) for Rehda at Komtar on Friday.
Earlier, PTMP project delivery partner SRS Consortium delivered a presentation on the plan which included seven public transport lines.
They are Bayan Lepas LRT; Air Itam monorail; Tanjung Tokong monorail; a tramline in George Town; Georgetown (The Light)-Butterworth (Penang Sentral)-Sg Nyiur LRT; Raja Uda-Sg Nyiur-Bukit Mertajam-Permatang Tinggi monorail; and Permatang Tinggi-Batu Kawan bus rapid transit.
SRS director Szeto Wai Loong said the state government would choose the LRT operator in an open tender.
To a question from Penang Rehda chairman Jerry Chan about acquisitions of private property and cemeteries for the project, Szeto said a few farm houses would be affected in the area where the Bayan Lepas LRT would be built.
He also said SRS and Malaysia Airports Holdings Bhd were looking into the expansion of the Penang airport, with the matter currently in the early stages of discussion.
Chan had said priority must be given to the expansion of the airport to accommodate the growing number of passengers.
Szeto said the detailed environ- mental impact assessment studies for the Bayan Lepas LRT and south coast reclamation were ongoing.
He added that the studies were expected to be completed and submitted to the Department of Environment by the end of this June.
Source: TheStar.com.my