KDU Penang University College @ Batu Kawan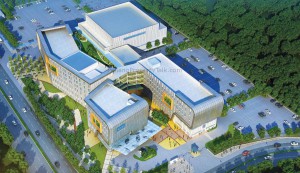 A total of RM220mil will be spent on the new KDU Penang University College campus in Batu Kawan.
Paramount Corporation Bhd Group chairman and executive director Datuk Teo Chiang Quan (pic) said the first phase on a 4ha site would be completed in 2018.
"There would be another phase of commercial and residential components on a 8ha site to support the campus.
"The entire project is known as 'utropolis' coined from the words university and metropolis," he added after the ground-breaking ceremony of the new campus by Penang Chief Minister Lim Guan Eng.
Also present were Paramount Corp chief executive officer (CEO) Jeffrey Chew, Paramount Education CEO Datin Teh Geok Lian, and KDU Penang University College vice-chancellor Dr Chong Beng Keok.
Teo said when completed, the "utropolis" would be able to accommodate up to 5,000 students.
"It would feature a green campus with state-of-the-art facilities that are in line with the requirements of a university college, and include a myriad of informal activity areas designed to promote active discussions and learning beyond the classrooms," he added.
On the new campus, Dr Chong said the programmes offered would focus on skills development and the spirit of entrepreneurship.
"Our aim is to prepare job-ready graduates especially in the accounting, banking and finance, and engineering sectors," he added.
The Batu Kawan campus is modelled after the "utropolis" in Glenmarie, Shah Alam, Selangor.
Meanwhile, Teh said that KDU Penang boasted a high record of employability with more than 90% of its graduates finding jobs within six months of graduation. She added that the new campus would be equipped with energy-saving features for effective consumption.
Source: TheStar.com.my