Penang Island vs Mainland (Part 1) – Location branding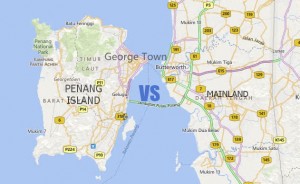 by Ken Lim
In Penang, one of the most intense debated topic is the property investment and purchase decision between the properties in island and mainland. The island which is well-known for its "scarcity of land" has always been the top property investment choice for both locals and foreigners, whereas the mainland is always named as the secondary option for a bigger house or an affordable alternative.
Many people told me that they prefer to invest into property in the island due to its limited land, higher-class shopping malls, well-known tourist hotspot, beautiful beaches and not forgetting the good food. I would have to agree that these are some valid reasons. But if we are buying a property for own stay, how much does it really matter to us?
A branded location
The branding of a location can give it a competitive edge. Sometimes this can be one of the most powerful factors in a property investment decision. When we mention "Penang", the first thing that comes to our mind is the Penang Island – A glamorous location that is well known for land scarcity. To some people, Penang Island is a branded city with pride in its properties, beaches and food.
Georgetown, Seri Tanjung Pinang, Tanjung Tokong and Gurney Drive are some of the top location brands in Penang Island. Properties in those areas are usually at least ~30% more expensive than the properties of similar density in other locations within the Island. RM800k is the sweet spot. Anything around this price range would likely to see a respectable take up rate.
Mainland on the other hand, has always been perceived as an affordable alternative for those who cannot afford a landed in the island. Most people knew Butterworth, Perai, Seberang Jaya and Bukit Mertajam. But none of them is perceived as a prominent brand to the penangites.
However, things has started to change in the recent years. Developers have started to focus into the mainland, taking advantage of the cheaper land cost that they have purchased many years back. For example, Alma, some used to have a certain perception about it. But DNP has changed the perception of that area with series of well planned residential and commercial developments such as AEON mall and Tesco hypermarket along Jalan Rozhan. Landed property at a strategic location in mainland is no longer cheap. Newly launched terrace houses are mostly more than RM600K. If you are looking for something less than RM500K, you would have to go to the southern part of Seberang Perai, namely Simpang Ampat, Jawi and Sungai Bakap.
For Batu Kawan, the upcoming development by Eco World, Aspen Group and PE Land is expected to have a positive and transformative effect on the property market in the region. The rapid development toward urbanization makes location branding an important determinant of its success over the next decade. Desa ParkCity is one unique example how Perdana ParkCity Sdn. Bhd. has transformed a piece of vacant land in Kepong into one of the most sought after self-contained township in Klang Valley. Who knows? May be one day you will feel proud to have owned a property at Batu Kawan.:)
Coming back to the reality, today there is nothing wrong if you were to choose a branded location like Gurney Drive, or a less-branded location like Simpang Ampat, or a new brand at Batu Kawan. Most importantly it fits your budget and suits your lifestyles. At the end, we may be working at the same place, eating in the same restaurant, shopping in the same mall and watching movie in the same cinema.
OTHER TOPICS:
Penang Island vs Mainland (Part 2) – Land scarcity or abundant?
Penang Island vs Mainland (Part 3) – Connectivity & Accessiblity
Penang Island vs Mainland (Part 4) – Population
– Ken Lim
(Founder and Principal Reviewer, PenangPropertyTalk.com)