10 Most Popular Projects in February 2015
Last month PenangPropertyTalk.com has recorded a total of 126,000 visits, about 28% month-on-month increase (Feb'15 vs Feb'14), according to the latest Google Analytic web traffic report. Although this does not necessarily translate into a strong property market rebound, it does show that the interest in Penang property continue on the rise.
Now let's take a closer look at the most popular projects in February 2015.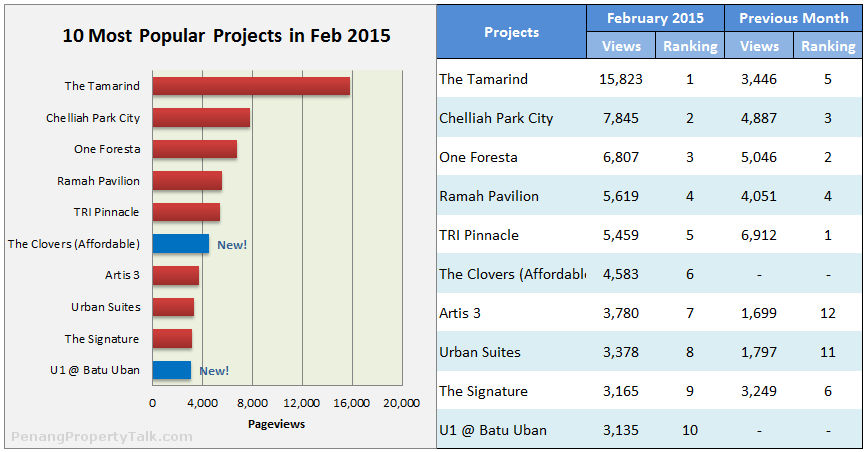 The #1 slot is taken by The Tamarind with a whopping 15,823 views in February 2015. This is an upcoming freehold executive apartments by E&O Property at Seri Tanjung Pinang, with an indicative selling price starting from RM700,000 onwards. This project has been listed in the top 10 for three consecutive months. Last month's surge was primarily due to the project preview activities which has started recently.
Once again, affordable housing projects come out high in popularity among penangites. The five projects approved and announced by Penang State Government earlier this year are all in the list, taking second through sixth spots.
To know more about the current and upcoming affordable housing projects and location, below is the page that you should not missed out:
Affordable Housing Projects & Location
It is also worth mentioning that this page was viewed more than 20,000 times last month and it was shared more than 2,400 times in Facebook.
* Projects are ranked based on the actual number of clicks & views in Google Analytic web traffic report for PenangPropertyTalk.com.
>> PREVIOUS MONTH: 10 Most Popular Projects in January 2015