Penang will pursue the George Town–Butterworth LRT link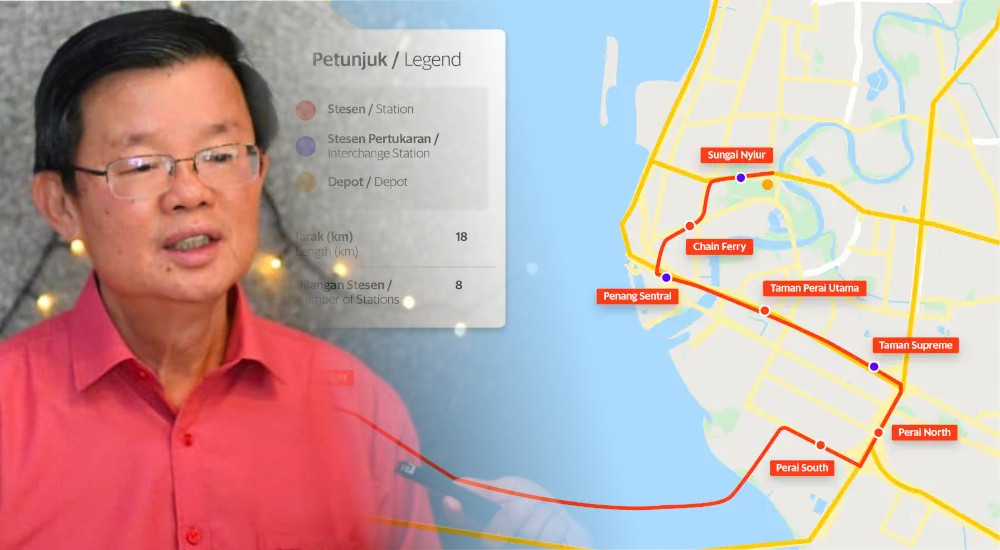 The Penang government is still waiting to meet Prime Minister Datuk Seri Anwar Ibrahim and Transport Minister Anthony Loke to discuss the proposed George Town–Butterworth Light Rail Transit (LRT) project.
Chief Minister Chow Kon Yeow said the discussion would also touch on other critical transport projects in Penang, such as the Bayan Lepas LRT (BL LRT) and the Pan Island Link 1 (PIL 1).
"The George Town–Butterworth LRT is a proposed extension of the BL LRT, which serves to connect the mainland KTMB railway line to the BL LRT at the Penang Sentral Transport Hub.
"Together, the two lines will enable passengers to travel between the island and the mainland, and to must-go locations on the island between George Town and Bayan Lepas.
"They will also be crucial for future plans to extend the services to other locations in the state such as Air Itam, Tanjung Tokong, Butterworth and Bukit Mertajam," Chow said today.
Chow spoke about the proposed George Town–Butterworth LRT, a new component under the Penang Transport Master Plan (PTMP), during his winding-up speech at the State Legislative Assembly on Nov 24 last year.
"We will pursue the island-mainland LRT link.
"We are aware that people are very interested in the proposed line because thousands travel across the channel for work and leisure daily.
"Having this line will greatly improve our public transportation system and change how people commute," he added.
Chow said: "As mentioned, we hope the Federal Government will help Penang implement this crucial transit line across the channel so we can reduce the number of vehicles on the Penang Bridge."
Speaking about talent shortage, Chow said the phenomenon is a worldwide issue and is not unique to Penang.
"The state's talent development programmes have created multiple channels for the talents nationwide to explore career opportunities.
"We feel that the state needs to have both short and long-term measures in the talent attraction agenda to ensure a sustainable talent pipeline," he said, giving examples of some of the talent-related initiatives by the state government.
Among the initiatives are the Penang Internship Subsidy Programme (PISP), Penang GBS Industry Academy (PGIA), and Penang Future Foundation (PFF).
"With the state government's proactive approaches, coupled with the industry's slower growth this year, I am hopeful that the labour market will stabilise in three to six months," he added.
Source: Buletin Mutiara