Old wooden premises in Perak Road to be demolished making way for new development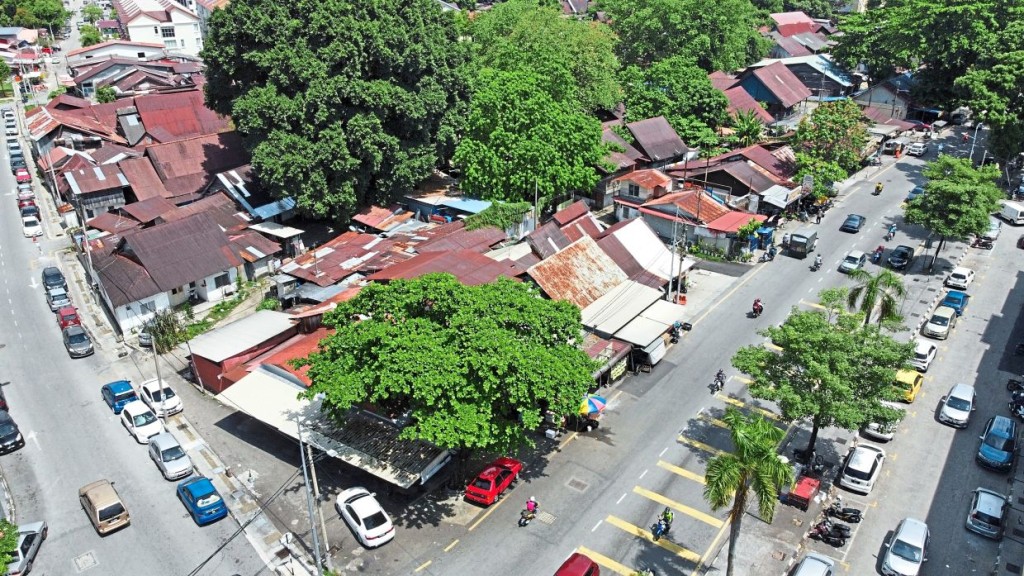 For over six decades, taxi driver Tan Teong Poh has lived in a zinc-roofed wooden house in Perak Road, George Town in Penang.
The 68-year-old, who is the third- generation occupant of the house, has many fond memories of his home.
"My grandfather was one of the pioneers and he was the one who built this house.
"The house is at least 100 years old. When I was young, all nine of us stayed here under one roof.
"Everybody knows everybody here and most of my neighbours are my relatives.
"This area is usually packed with people during Chinese New Year when our friends and families come home.
"My three children, aged between 27 and 41, used to stay here when they were young but all of them have since moved out," he said.
Teong Poh's home is among some 100 wooden houses and 20 shoplots which will be demolished to make way for a new development.
A representative for the landowner Tan Si Teoh Tng Seah Association, who wished to be known only as Tan, said the residents and shopkeepers had been instructed to move out by next month.
"I believe some buildings are more than 150 years old.
"The residents and tenants were given letters to move out a few months ago.
"The initial plan is to build high-rise residential units as well as commercial shoplots, and the tenants will be compensated accordingly," he said.
Teong Poh said although he was a bit reluctant to move, he understood that development was needed.
"The development can bring about a positive impact on the community, as well as more growth to benefit the area," he opined.
He said that he and his wife had found a place nearby to rent.
"We will be compensated with a unit after the new project is completed.
"We were told that this plot of land would be used to build commercial shoplots as well as high-rise residential units.
"I will move back to this area after the new project is completed, which should be in about six years.
"I will never forget the good times and nostalgic moments that I shared with my loved ones here," he added.
As for Yeong Lih Fen, 60, who has been living in Perak Road since she got married over 30 years ago, it was a difficult decision to move away from this place.
"There are many food stalls which are within walking distance from where I live.
"When I do not feel like cooking, I can always walk to get food at the shops, which are only a stone's throw away from my house," she said.
Yeong said the house she lived in was built at least 80 years ago.
"My husband's family slowly expanded the house over the years.
"My son is the third generation living here.
"During the good old days, we easily had about 30 people staying here together.
"We have two wells in the house compound to provide water for all of us.
"We use the well water to cook and shower, as well as wash bean sprouts and make tau kwa (firm tofu) and chilli paste," she said.
Yeong said that even though she was reluctant to leave the place, moving might be a better option as some of the house's wooden structures were damaged by termites, making it unsafe for her and her family.
"Sometimes, water leaks into the house when it rains.
"The house is very old and I am not sure whether to repair it, as the new landowner can take over the house any time.
"For the time being, I will be staying with my son and his family in George Town," she said.
Housing multiple generations
A coffeeshop which has been located at Perak Road for more than 70 years, is among the business establishments that will be affected.
Its owner Tan Joo Lye, 70, said he was reluctant to leave the shop.
"This coffeeshop has been around for over 70 years. It was my father who started the business.
"I was born in the village here and I grew up in this area.
"I am the second generation in the family business and my 29-year-old son, Kok Seong who is the third generation, is helping me now.
"We sell economy rice and have many regular customers.
"My wife cooks the dishes and every day there are at least 60 dishes," he said.
Joo Lye said they would move out by next month.
"Luckily, we managed to rent a place right opposite my current shop.
"We are open almost every day and are only closed a few days each month.
"We remained open even during the Covid-19 movement control order period," he added.
Hardware shop owner Lau Khoon Peng, 74, said he started moving things out of his shop about three months ago when he first received notice to vacate the premises.
"This business has been operating for over 50 years. We started in a stall opposite and moved here about 18 years ago.
"This lot used to be a coffeeshop before we took over and turned it into a hardware store. We sell a lot of items here including stationery and other household goods.
"My son, who is the third generation, will be helping to manage the business," said Lau.
Meanwhile, Lim Heng Jie is keen to sustain his family's popiah (springroll) skin-making business in spite of the impending relocation.
The 31-year-old said his great-grandfather started the business at their shop in Perak Road over 60 years ago.
"I want the business to continue to succeed, as popiah skin-making is a dying trade.
"I hope to keep this traditional trade alive for many years to come.
"My parents and my grandmother are still helping me with the business. We produce around 30kg of popiah skin a day," he added.
Lim said they would be moving to a shop near the Jelutong Market.
"The notice to relocate did not catch us by surprise as we had been informed about a year ago.
"However, the closer we get to the date to move out, the more reluctant we are to leave," he said.
The adjacent Perak Road Market is slated to be refurbished too. It is considered one of the oldest markets on Penang island.
Penang Chief Minister Chow Kon Yeow, who visited the market recently, said there were plans to rebuild the market.
"Two open tenders were called for the rebuilding works previously, but they have since been halted due to the Covid-19 pandemic.
"A third tender will be called, and we hope that it will be a success this time around. The traders and market-goers have been waiting for this initiative to materialise.
"There is also a plan to develop a commercial project at a parcel of land beside the Perak Road fire station," Chow told reporters.
Built in 1951, the 71-year-old market has been renovated numerous times, but its structure has not changed much.
The market, which is located in the Jelutong parliamentary constituency and the Batu Lanchang state constituency, is one of the busiest markets on Penang island.
Source: TheStar.com.my