Desa Baiduri apartment in Paya Terubong to get facelift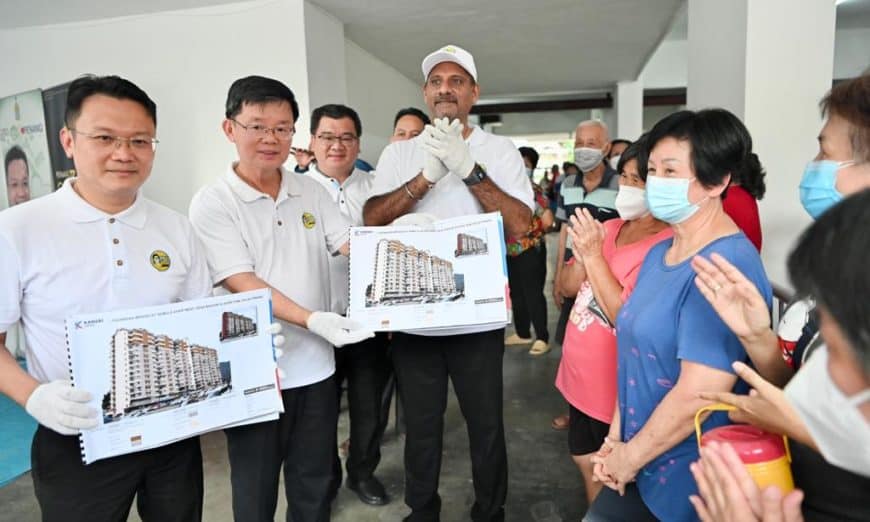 The Desa Baiduri apartment in Paya Terubong will soon be given a new coat of paint as repainting works are scheduled to take place at Block 1A and 1B there.
Chief Minister Chow Kon Yeow, who visited the premises earlier, said the repainting works were expected to cost RM617,000.
State Tourism and Creative Economy Committee chairman Yeoh Soon Hin, who is also the Paya Terubong assemblyman, would bear 10 per cent of the entire cost (RM61,700).
"During the repainting works, residents may encounter uneasiness when entering their homes.
"It is hoped that all of you will be able to cooperate with the contractor during the time the works commence," Chow said after visiting the apartment in Paya Terubong during his 'Jelajah ❤️Penang programme' in Bukit Gelugor today.
The repainting works, which will commence in mid-September and are expected to be completed in three months, will involve 700 units, affecting 3,500 residents.
Chow also hoped that the repainting will enlighten the lives of the people there, as well as leave a positive impact and encourage greater togetherness among the local community.
Accompanying Chow was also Bukit Gelugor MP Ramkarpal Singh.
Later, in the last event under the 'Jelajah ❤️ Penang' programme for the day, Chow, Ramkarpal, Yeoh and several other Penang Island City Council (MBPP) councillors, visited the newly-established food bank in Jalan Tingkat Paya Terubong 2.
The food bank centre, which was initiated by the Paya Terubong Village Community Management Council (MPKK), started its operations in July this year.
Ramkarpal and Yeoh allocated RM40,000 to upgrade the centre.
The centre is open every Monday from 7.30pm to 9.30pm.
Chow also took the opportunity to distribute basic necessities to a group of B40 residents in the constituency.
The recipients were overjoyed to have received the assistance.
Source: Buletin Mutiara