M Summit 191 received two Malaysia Book of Records (MBR) awards today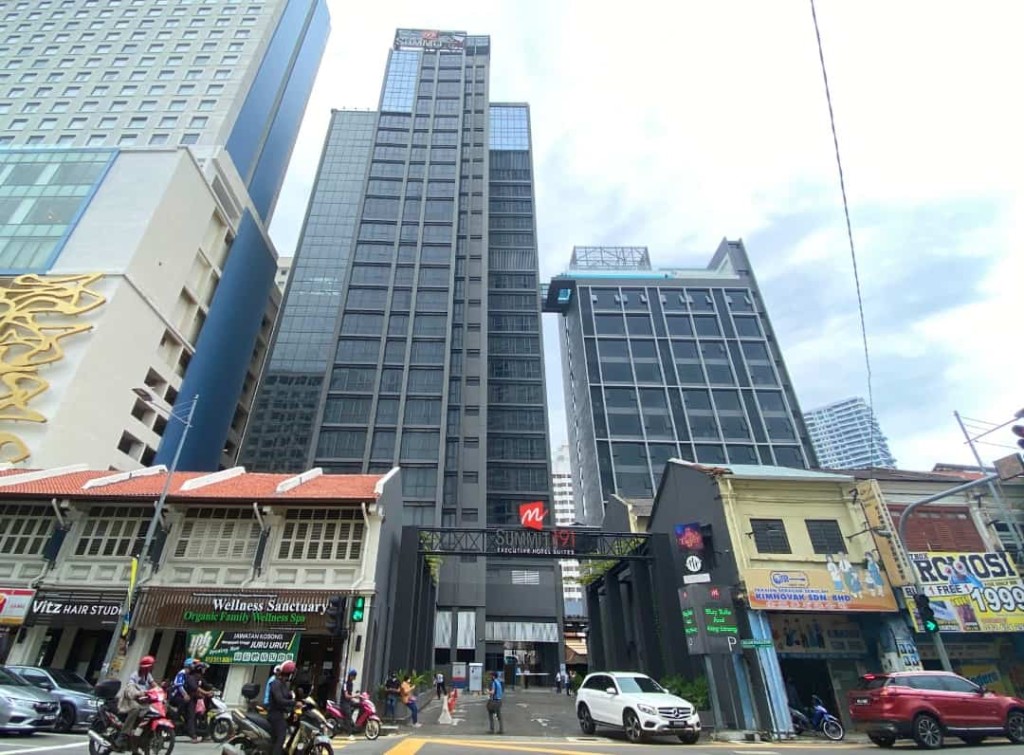 M Summit 191 Executive Hotel Suites, which will be rebranded as The Granite Luxury Hotel on Aug 1, achieved a rare distinction when it .
The hotel's car park is recognised as Malaysia's Tallest Automated Hotel Car Park at 71.2m while its Mirage swimming pool is the Highest Cantilevered Acrylic Bottom Swimming Pool at 49.5m.
It was a memorable moment for M Summit Group founder and managing director Datuk Albert Moh when he received the two awards from MBR deputy general manager Aaron Bong at the hotel located in Magazine Road in George Town today.
The presentation was witnessed by Chief Minister Chow Kon Yeow and about 100 guests and staff.
"The idea of having an automated car park was explored by Wei Ren (M Summit Group's general manager). He had to find ways to build a car park within a small footprint of land.
"When faced with challenges, we need to be able to think out of the box and break away from conventional practices.
"The automated car park can accommodate up to 204 cars within a small footprint. This is an ideal way of parking for George Town where land is scarce and parking bays are in big demand.
"It also saves the driver time from having to hunt for roadside parking or drive up a multi-storey car park. The automated car park also prevents car break-ins, vandalism and car thefts.
"As for the acrylic bottom swimming pool, I hope that it will enable the hotel guests to feel like they are swimming in the sky and challenge those with fear of heights," Albert said in his speech.
He also urged the state to compile a list of MBR attractions to help boost Penang's image and tourism industry.
"Just like having tourist maps showing where to find famous murals in George Town, we also come up with similar maps to locate MBR-listed attractions, like the oldest supermarket or the tallest automated hotel car park," said Albert, who had just returned from London where M Summit won two Asia Pacific Property Awards for Best Leisure Development and Best New Hotel Construction & Design.
Also present were M Summit Group purchasing director Datin Jennifer Ong, Group general manager Moh Wei Ren, hotel general manager Moh Wei Ken, and development planning manager Moh Wei Khye.
Chow congratulated M Summit for receiving the MBR and the Asia Pacific awards, and also looked forward to more inspiring feats.
"Gaining an entry in the Malaysia Book of Records also speaks volumes of the 'Can-Do Spirit' shown by M Summit and more importantly, by the people of Penang.
"In the era of recovery and rejuvenation after two years of what all of us have been through, it is now time to heal and to regain the momentum we lost. I sincerely applaud the M Summit team for setting your priorities right to be an exemplary achiever for others to follow.
"Within a small footprint of land, the car park can play its part in helping to address parking woes in the city while The Mirage swimming pool will be a unique attraction for visitors to Penang.
"Those coming to see me at my office in Komtar can also see the pool and car park through the glass windows," said Chow.
Source: Buletin Mutiara