TF-AMD to expand new manufacturing facility in Batu Kawan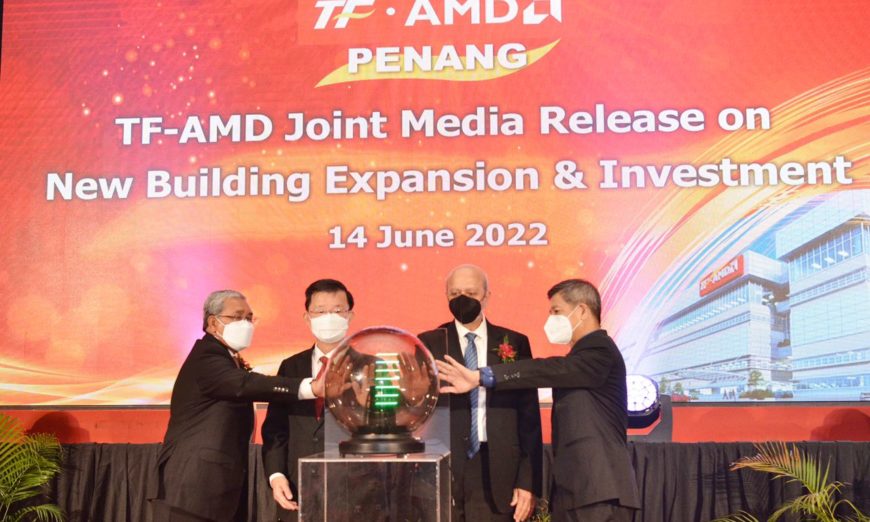 With nearly RM2 billion in capital investment, TF AMD Microelectronics Sdn Bhd today announced its plans of expanding a new manufacturing facility at the Batu Kawan Industrial Park on the mainland.
The new facility, spanning 1.5 million square feet and occupying approximately 14 acres, will manufacture advanced integrated circuit technology and is expected to be completed in 2023.
The second site at BKIP, according to Chief Minister Chow Kon Yeow, has greatly demonstrated the conduciveness of Penang's business environment, bolstered by its resilient supply chain, excellent infrastructure and future-proof talent pool.
"As a pioneer in this field and ever since making its presence here in Penang in 1972, the state is pleased to see TF AMD deepening its roots here, which will open doors to multiple good things.
"With the wealth of knowledge and experience in the electrical and electronics (E&E) industry, I am confident that this strategic expansion plan will provide immense opportunities for local talent development in high-performance computing solutions.
"Having been a key industry player in developing the capacity and capability of Malaysia's semiconductor ecosystem, TF AMD is also committed to establishing collaborative opportunities with local vendors and universities.
"Specifically, the company targets to employ two to three thousand new employees with science and technical backgrounds within the next five years as a means of developing the skills of local talents and vendors in the areas of Industry Revolution 4.0, automation and engineering services.
"The company's efforts to build a strong talent pipeline through training programmes are expected to generate positive spillover effects on Penang's talent pool," Chow said during his speech at the TF AMD Microelectronics Sdn Bhd investment announcement ceremony in Bayan Lepas today.
He also added since 2016, the company has invested an approximate value of RM900 million in Malaysia.
It was also learnt that once the construction of the second site is completed, more than 3,000 new jobs in advanced semiconductor engineering, design and process technologies for high-performance computing solutions will be made available.
Company vice president and managing director Neoh Soon Ee said that once completed, the facility would bring TF AMD's total manufacturing capacity to over 2.3 million square feet.
"This is an exciting day for TF AMD as it marks the beginning of a new chapter in our continuous pursuit of providing excellent support to our customers with differentiated high-value engineering solutions," he said.
Company chairman Shi Ming Da, who witnessed the announcement virtually, said Malaysia is endowed with outstanding geographic location, a good business environment, diligent and sincere workforce.
"This is what strengthens our confidence for continuous investment in Malaysia," he said.
Meanwhile, the company's Executive Vice President, Chief Financial Officer and Treasurer, Datuk Devinder Kumar, said AMD has had outstanding growth in the last few years and TF AMD has played a key role as a strategic supplier and partner in supporting our growth.
"We are pleased with the expansion plans for assembly, test and packaging services of our joint venture TF AMD, which will further increase the capacity and supply to support AMD's future growth," he said.
On April 29, 2016, TongFu Microelectronics (TFME) acquired 85 per cent of AMD's stake in two locations, namely AMD in Penang, Malaysia and AMD Suzhou, Jiangsu in China, and formed a joint venture called TF AMD Microelectronics (Penang) Sdn. Bhd.
Separately, Chow, during his speech, also spoke about how Penang's trade performance improved greatly, seeing its exports climb 16% year-on-year in 2021, reaching its all-time high of RM364 billion.
"Notably, the E&E and semiconductor products dominated Penang's exports, accounting for more than 70% of the state's total.
"On the investment front, Penang topped and accounted for 41% of the country's foreign direct investment (FDI) in 2021; with an all-time high of total approved manufacturing investment of RM76.2 billion," he added.
Source: Buletin Mutiara