Penang may consider another avenue to build LRT if reclamation project scrapped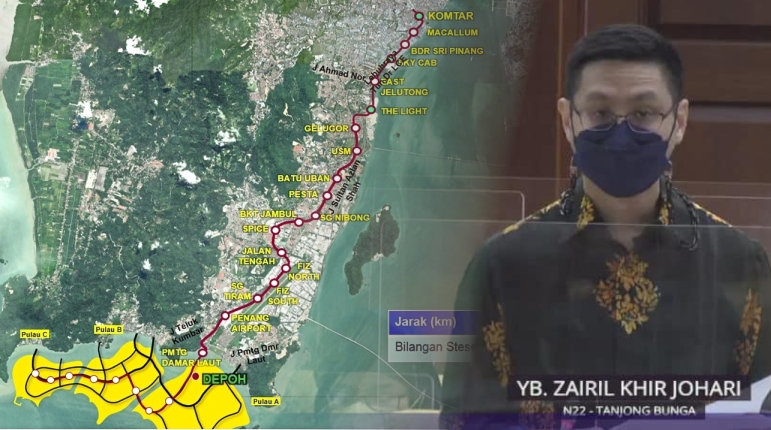 Penang will consider building its light rail transit (LRT) line separately from an earlier transport master plan if the three islands project does not get regulatory approval.
Previously, the three islands project, known as the Penang South Reclamation (PSR), was supposed to finance the LRT project with land from the reclaimed islands to be sold. The 19km LRT line, starting from Bayan Lepas, is estimated to cost RM8.5 billion. It will have 30 stations.
However the approval to carry out the PSR project was rescinded by environmental regulators after an appeal by fishermen in September.
Executive councillor Zairil Khir Johari told the state assembly today the state government is considering calling for a request for proposal next year to invite companies or consortiums to vie for the LRT project, if the approval for PSR continues to be delayed.
"But I reiterate that this is being studied and will depend on how the study turns out.
"We remain committed to PSR, the Pan Island Link 1 Highway and the Penang Transport Master Plan," he said.
He was replying to a supplementary question by Goh Choon Aik (PH-Bukit Tambun) who had asked what the state plans to do about the LRT project if PSR fails to take off.
Earlier, Zairil said the PSR approval snag was caused by technicalities involving the state structure plan.
He said the state plans to file a judicial review over the withdrawal of approval and, at the same time, make a new application for approval from the department of environment. (DoE)
Dr Afif Bahardin (PN-Seberang Jaya) asked if the state risks losing the "PSR gambit" altogether if it filed for approval afresh.
Zairil said the new application is nearly identical to what was submitted before, with the difference being the reclamation sequence of the three islands being changed.
He said Island A (south of the airport runway) would be built first, as opposed to the earlier approved Island B (south of Teluk Kumbar).
He said the state government realised that Island A was more important to cater for more industrial land, as the state was severely short of it.
H'ng Mooi Lye (PH-Jawi) asked if it was fair that other states could easily carry out reclamation work without trouble, such as Melaka and Johor.
Zairil said it was "unacceptable and unfair" for federal regulators to "continue to victimise Penang".
He asked if these same regulators had looked into individual state structure plans in connection with highway projects and reclamation work carried out in Melaka and Johor.
"We are not questioning the law, but why victimise us when we have followed the law?" he said.
Source: FreeMalaysiaToday.com