6-month loan moratorium for individual borrowers and micro entrepreneurs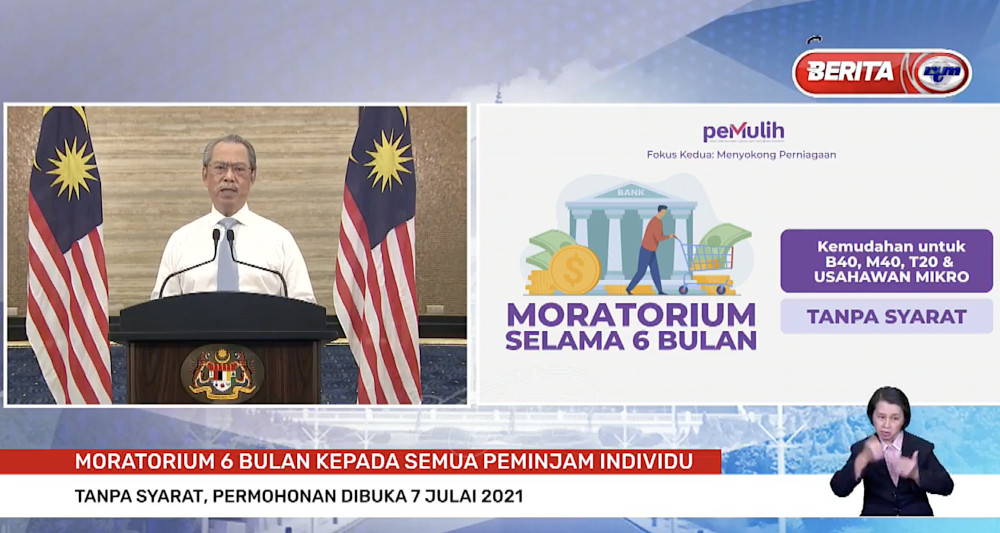 Prime Minister Muhyiddin Yassin announced a six-month loan moratorium to all individual borrowers, whether from the B40, M40 or T20, as well as micro-entrepreneurs.
All Malaysians will now enjoy a six-month loan moratorium beginning next month, as part of the government's latest round of stimulus packages in light of the Covid-19 pandemic.
He said those wanting to opt for the moratorium would still need to apply with their banks, but approval will be given automatically.
"There will be no more conditions, no checks whether or not you lost your jobs, and no need for any documentation to be furnished when applying.
"I hope this initiative will more or less assist individual borrowers and SMEs in managing their cash flow during these trying times.
"However, I would like to remind everyone to use this offer wisely, and if there is no pressing need, don't increase your financial commitment."
Application for the moratorium will open July 7.
Besides, Muhyiddin also announced a new incentive under the Employees Provident Fund (EPF) called i-Citra. Some 12.6 million Employees Provident Fund (EPF) members will be allowed to withdraw up to RM5,000 over a period of five months under the i-Citra facility. It will see some RM30 billion going into people's hands to sustain their daily needs.
They will be allowed to withdraw RM1,000 per month for a five-month period.
Applications can be made through EPF's online portal from July 15 onwards, with the first payments to be credited to applicants' accounts in August.