The Park @ Mak Mandin completed with CCC
The Penang government is calling all housing developers to work with the state to develop affordable housing projects.
State Local Government, Housing, Town and Country Planning Committee chairman Jagdeep Singh Deo said the state government would continue to lend their support and assist developers who are keen on developing affordable housing projects.
"Our main priority is to ensure that there are affordable housing projects for all Penangites.
"And when we know that we have private sector players like you who want to assist us, we will make sure that we make it feasible, viable and practical for you to come onboard.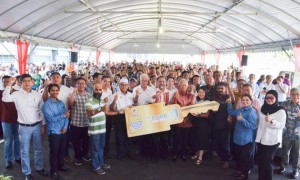 "This project is proof of that," Jagdeep said in his speech at The Park @ Mak Mandin CCC handover ceremony today.
The project was developed by Silver Channel Sdn Bhd.
Jagdeep said that the Penang government also prioritised livability.
"It is not just providing affordable homes. We must also ensure that the homes are livable," he said.
Jagdeep added that a total of 103,721 housing units have been built, are being built and have been approved to be built in Penang to date.
He said that building affordable housing units was the 'right direction'.
"I have received complaints from housing developers that the economy is soft and it is difficult to sell homes.
"Let me rebut the complaints here. Follow this direction and build affordable homes. You will not regret it.
"I was made to understand that The Park @ Mak Mandin project is 100% sold," he said.
Jagdeep said: "If you (housing developers) want to continue building homes that cost RM1 million or RM1.5 million, you build them at your own risk."
"Whereas, you are be able to sell homes if you build affordable homes. The state will push for this because it is for the people," he added.
Silver Channel Sdn Bhd chairman Datuk Musa Mustakim said the company was honoured to received the Certificate of Completion and Compliance (CCC) status four months ahead of schedule.
"Thumbs up to the Penang government for its double winning strategy – firstly for relocating squatters to safer and proper homes; and secondly, in allowing future generations to own affordable homes at a strategic location here in Bagan.
"Standing on a 10-acre land, The Park @ Mak Mandin is a low-density affordable housing project.
"The selling price for each unit is only RM247,000 and the home owner gets to enjoy a spacious 1,002sq ft, three-bedroom home.
"There are also facilities such as a half-sized Olympic pool and fiber-optic Internet. The property is also gated and guarded," he said in his speech.
Also present at the ceremony were Penang Youth and Sports Committee chairman Soon Lip Chee, state Welfare, Caring Society and Environment Committee chairman Phee Boon Poh, Seberang Perai City Council mayor Datuk Rozali Mohamud and Chief Minister of Penang Incorporated (CMI) deputy general manager S. Bharathi.
Source: Buletin Mutiara