Penang shuts down Sri Aman market for disobeying MCO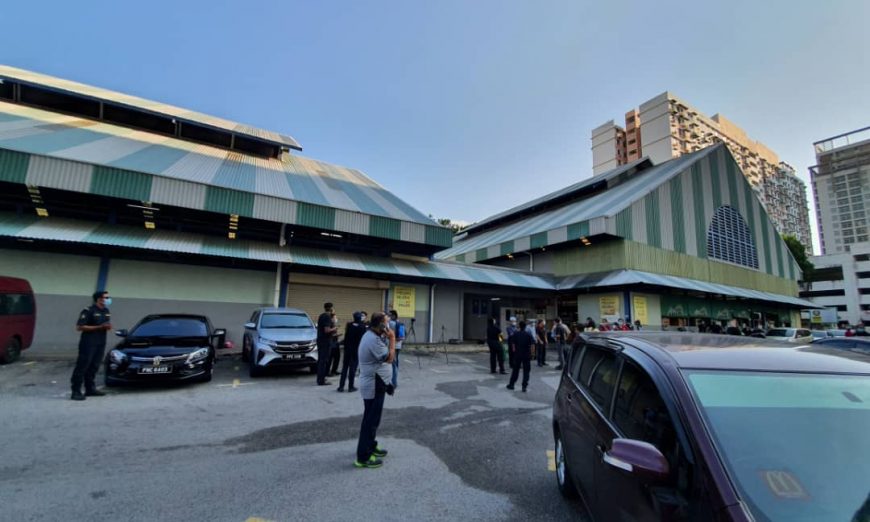 The Penang Island City Council (MBPP) has temporarily closed the market in the Sri Aman Complex in Relau for three days, beginning from today.
It is the first market in the state to be shut down by the authorities since the movement control order (MCO) was enforced on March 18. The adjacent foodcourt, however, is allowed to operate.
State Local Government, Housing, Town and Country Planning chairman Jagdeep Singh Deo said the closure was for the sake of public health as the market had infringed the MCO.
The MCO, which was originally scheduled to end on March 31, has been extended to April 14.
"They did not obey instructions and we have to close it. It's not an easy decision to make," Jagdeep told a press conference at Sri Aman Complex this morning.
"Don't play, play. This is a life and death issue. And I am giving a warning to all public markets that if they don't follow the MCO, we will take the same action.
"The Sri Aman market did not observe social distancing, did not allow a certain number of people in the market an any one time and did not prepare hand sanitiser for the market-goers.
"We took the decision to shut down the market last night. It's for the good of the people and their loved ones. Our priority is public health and safety.
"This decision was not easy to make but as the government representative, it is my responsibility. It might not be accepted (by all) but I want to stress that on the part of the government, we won't compromise.
"I hope all will understand and I believe no one can be angry with me over this decision."
Jagdeep said he saw no reason why Sri Aman market could not obey the MCO when the MBPP and the Seberang Perai City Council (MBSP) have both reported 99% compliance rate to date.
"When the MCO was enforced, we initially had a 80% compliance rate. But now both councils have reported a 99% compliance rate. I want to thank them and the public for their cooperation.
"I hope all public markets will continue to work together and follow the regulations. We will not allow the 1% to disobey the MCO."
Also present were Bukit Gelugor MP Ramkarpal Singh, Paya Terubong assemblyman Yeoh Soon Hin, MBPP mayor Datuk Yew Tung Seang, MBSP mayor Datuk Rozali Mohamud, MBPP secretary Datuk Addnan Mohd Razali and the Sri Aman market owner Liew Piang Chong.
Liew, who admitted that the crowd control was lacking, said he had managed to get four Rela personnel to help when the market reopens on Wednesday (April 1). The market has 20 stalls.
"We tried to control the crowd but they would not listen. Most of the people who come here for their marketing are foreigners.
"I managed to get four Rela personnel to help out today but the authorities had made their decision last night," Liew explained.
Yew said the roadside stall in Jelutong, which was earlier allowed to sell vegetables, would be closed from tomorrow until further notice.
MBPP had earlier ordered all roadside stalls in Jelutong (except for the one selling vegetables), Air Itam, Bayan Baru, Perak Road and Pulau Tikus to close to curb the spread of Covid-19.
For MBSP, Rozali said he is appealing to shoppers and traders to change their attitude during this MCO period.
He said market-goers should decide what they want to buy instead of dilly-dallying inside the market as about 100 people could be waiting to get in.
Besides that, Rozali said traders should also modify their business by packing certain items in advance for sale, such as in packets of one kilogramme, two kilogrammes or five kilogrammes.
Source: Buletin Mutiara