Penang govt welcomes Federal's willingness to consider funding for PTMP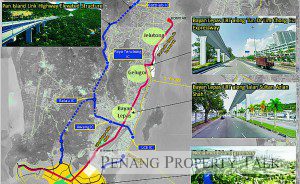 The Penang government will be submitting its application to the Federal Government to seek an allocation to fund the Penang Transport Master Plan (PTMP) once the necessary approvals are obtained.
Chief Minister Chow Kon Yeow said the state welcomed the statement by Finance Minister Lim Guan Eng who had said that the Federal Government would consider funding for PTMP if asked.
"We will submit our application to the Federal Government to finance some of the PTMP projects, in particular, the light rail transit (LRT) project.
"Public transport is under the Federal's jurisdiction and LRT is a public transport. The Federal Government has been supporting rail projects in terms of funding in the Klang Valley.
"So, it is quite natural that the LRT project in Penang, being a public transport project, should also receive funds from the Ministry and the Federal Government.
"We understand that the funding will not be in a lump sum but over the duration of the construction period; so as not to burden the Federal Government.
"The Federal Government has a lot of projects to support in the country," Chow told a press conference in Komtar today.
Chow said that the Federal Government would consider a progressive disbursement of funds.
He also said that the Penang South Reclamation (PSR) project was necessary; not only to finance the PTMP but also to drive the state's economic development in the future.
"We need land for future development.
"We can relook at the scale of the PSR project if we have the funding from the Federal Government. The size of the land to be reclaimed can be relooked, but the PSR project is still needed.
"Penang is a key contributor to Malaysia's foreign direct investment (FDI). The state's FDI for January to March this year represented 42% of Malaysia's total FDI.
"It is important that Penang continues to grow its economy especially in the electrical and electronics (E&E) sector," he said.
Chow added that the approval for the PSR must first be obtained before the approval for the LRT could be given.
He also welcomed Economic Affairs Minister Datuk Seri Mohamed Azmin Ali's statement, that the Federal and the Penang government must work closely to ensure the needs of Penangites be guaranteed and given attention.
Source: Buletin Mutiara