20 Most Active Projects in Penang (Q3 2018)
No doubt 2018 is a tough year in the property industry. Penang housing continues to experience high overhang and developers are cautious in launching new projects. However, for buyers who have cash on hand, it presents an opportunity to secure a property at pricing that may not have been possible otherwise.
Despite a slow market, PenangPropertyTalk.com analytics data indicated a stable traffic in the past several months, with an average pageviews of 300,000 a month. Here is a list of 20 most active projects in Q3 2018.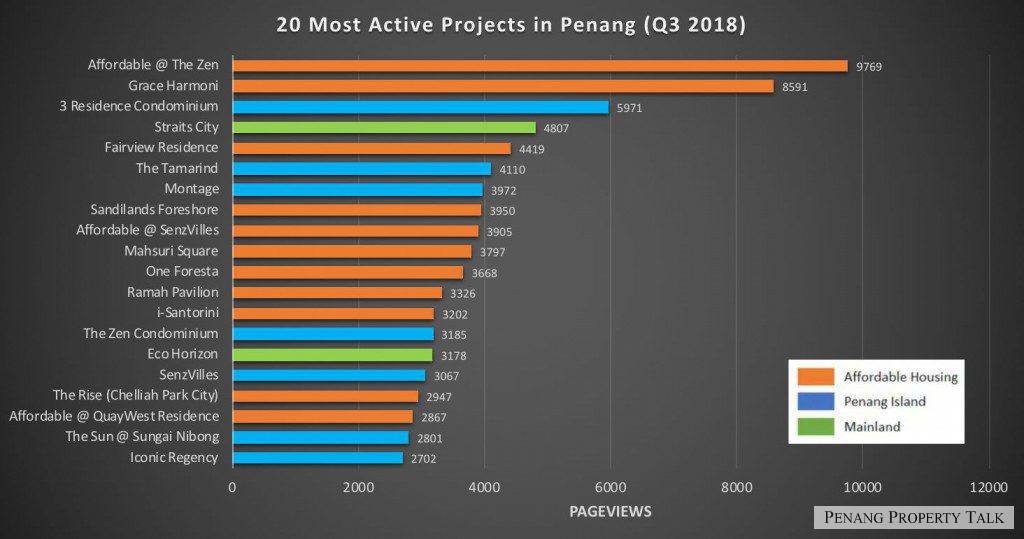 At a glance, more than half of the top 20 are affordable housing projects. Top in the list is the affordable housing at The Zen condominium, followed by Grace Harmoni. These two projects are located at Bayan Mutiara and Jelutong respectively, featuring a total of more than 1,600 affordable units.
3 Residence Condominium at Karpal Singh Drive by IJM ranked third in the list. It was launched in Q3 2018, offering 478 residential unit with built-up size ranging from 850 sq.ft. onwards.
Most of the projects in the top 20 list have already been launched with the exception of two projects – Straits City and Iconic Regency, which are slated to launch by end of this year.
Despite ranked 4th in the list, Straits City is probably the next project in everyone watch list, as it is an upcoming waterfront master-planned development in Mainland by STC Singapore, offering a mix of residential and commercial components.
* Projects are ranked based on the pageviews recorded in Google Analytic web traffic report for PenangPropertyTalk.com.
– Ken Lim
(Founder and Principal Reviewer, PenangPropertyTalk.com)