Penang LRT remains unconfirmed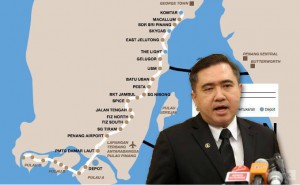 It might not be the best mode of transport, he added, saying that there should be other options available.
"While the federal government fully supports the state's proposal, there should be options for the state to choose from.
"Our studies by the Land Public Transport Commission (SPAD) show that there could be better models which the state could look into.
Chief Minister Chow Kon Yeow, who was also present, told newsmen later that the state was open to options of trams or LRT, bus rapid transport or mass rapid transit.
"Since the minister will send SPAD officers to meet us, we will look into the options as the studies were conducted in 2016 and have just been completed.
"The most important aspect would be securing the financing for the project," he added.
Meanwhile, the proposed low cost carrier terminal (LCCT), reportedly to be built by AirAsia, might not take place as the federal government is looking into the option of expanding the Penang International Airport (PIA) instead.
Loke said no decision or approval has been given for the LCCT.
He added that discussions on PIA's expansion were in its final stages but no decision or approval has been given for an LCCT in Penang.
"We are moving fast on the expansion as it needs to be done due to overcapacity but there is no deadline as we are looking at the best model, but approval will be given soon.
"I am aware a lot has been written about the LCCT, but it is mere speculation," he said.
Chow did not comment on Loke's statement. He had cited that the LCCT would further spur the growth of Penang, as the PIA at present would not be able to handle the increase in passenger capacity.
Finance Minister and Air Putih assemblyman Lim Guan Eng also brought up the issue during the state assembly in August, saying a solution was needed because the present airport in Bayan Lepas only has the capacity to handle 6.5 million passengers a year but arrivals last year hit 7.1 million and the number is expected to increase to 7.8 million this year.
It was reported that AirAsia, which occupies 50% of the PIA, was in talks to start work on an LCCT within the grounds of the PIA in Bayan Lepas, which is the site of the MAS Cargo Complex.
Source: TheStar.com.my