No price drop for low-cost and low medium-cost house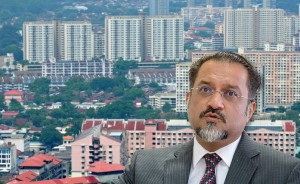 The expected drop of up to 10% in Penang's housing prices will not include low-cost and low medium-cost houses that are being built at a loss.
State Housing, Town, Country Planning and Local Government Committee chairman Jagdeep Singh Deo said the prices for low-cost and low medium-cost units would remain at RM42,000 and RM72,500 respectively even though the Sales and Service Tax (SST) had been exempted for major construction materials.
"The current construction cost for a low cost unit is RM120,000 but is sold at RM42,000," he told reporters after a site visit to the Chelliah Park City affordable housing project here.
"Low-cost and low medium-cost housing units are of a different category. We are already losing so much, so we will maintain their selling price."
Jagdeep Singh said the state government would, however, consider reducing the pricing on its affordable housing projects following a move by Real Estate and Housing Developers' Association Penang (Rehda) to bring down the overall housing prices by 10% for those costing above RM300,000 and 6% for affordable housing.
"I will raise the matter at the next state exco meeting for discussion," he said.
"When it was announced that the Goods and Services Tax (GST) would be replaced with the SST, I did mention that housing prices would go down.
"As SST is not charged for construction material like cement, construction cost is reduced and it would be right for the housing prices to go down as well.
"We welcome the announcement made by Rehda," he said.
It was reported yesterday that Rehda Penang chairman Datuk Toh Chin Leong said the association would advise its members to lower housing prices in the state.
"If they can reduce by 10% immediately it would be great. If not, it would apply to all new developments.
"For affordable housing, which is partly subsidised by developers, we will look at reducing the price by 6%. The reduction will apply for all new projects after the implementation of SST," he said.
Meanwhile, Jagdeep Singh annou­nced that the Chelliah Park City project had been given the Green Building Index (GBI) Gold Rating, making it the first affordable housing project to receive the certification.
"It has complied with several green initiative requirements.
"They include a passive design approach for solar orientation, sun blocking and shading to reduce heat gain, use of energy efficient lighting to reduce electricity use and water saving fittings, among other features.
"This project can be an ideal benchmark for others," Jagdeep Singh said.
"I will ask the Penang Develop­ment Corporation to see how this can be replicated in other projects in the state."
Source: TheStar.com.my