FMM Penang supports PIL1 Highway and Penang South Reclamation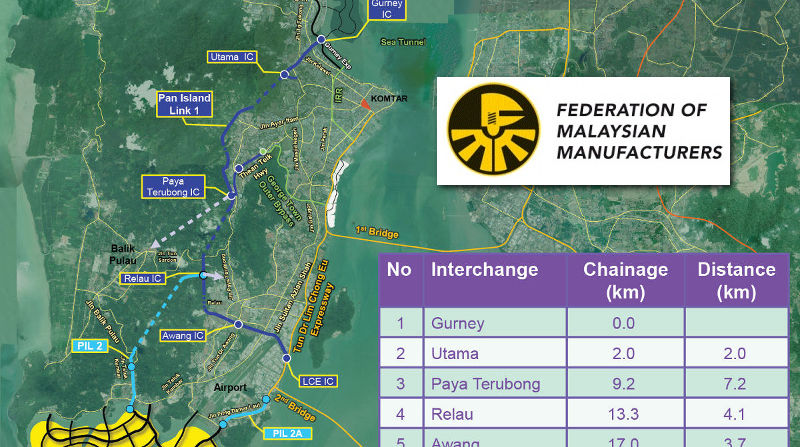 The Federation of Malaysian Manufacturers (FMM) Penang has supported the implementation of the Pan-Island Link 1 (PIL 1) Highway and Penang South Reclamation (PSR) based on the Penang Transport Master Plan (PTMP).
The PIL 1 Highway is a 19.5km, dual three-lane highway running from Gurney Drive to Penang International Airport (PIA) whereas the PSR project is to build three man-made islands located in the South of Penang island.
In a statement yesterday, FMM noted that any delay in the execution of PTMP and PSR by the state government can cause prolonged productivity loss from worsening traffic congestion, and opportunity loss from constrained growth as Bayan Lepas Free Industrial Zone (FIZ) has no available land for future expansion.
"With this, FMM Penang is strongly urging the authorities to place more investments in the State's public transport and traffic dispersal system especially in the high-density Bayan Lepas that needs urgent upgrading, and expand the Bayan Lepas FIZ for new investment opportunities," they stated.
Meanwhile, the statement was also made in response to the online news article dated Sept 9, where an activist alleged the proposed highway may drive out high-value factories, especially precision goods manufacturing factories, at the Bayan Lepas FIZ due to "excessive vibration" from the construction.
It is also stated that FMM had not received any operational issues from their member companies in Bayan Lepas FIZ despite part of its region being adjacent to PIA where high-frequency flights took place, as well as the high volume of vehicles plying the elevated Bayan Lepas Expressway.
"In light of the potential gravity of such claims, FMM Penang would appreciate if the concerned individual may share relevant studies, facts, information or data with the public to support such insights," FMM stated.
PTMP is a state-initiated project, costing an estimated RM46 billion, which features an undersea tunnel linking the island to the mainland, highways, LRT, monorail as well as extensive bus connectivity on both the island and the mainland.
Source: Bernama