We need more than just housing data to address housing issues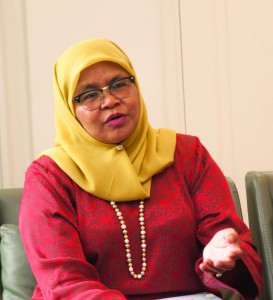 The United Nations Human Settlements Programme or UN-Habitat executive director, Maimunah Mohd Sharif's passion for bringing change to people's lives certainly shines through.
As the first Asian lady to be appointed to the position, Maimunah who grew up in a kampung in Kuala Pilah, Negeri Sembilan, was previously the mayor of Penang Island City Council and prior to that was the first woman president of the Seberang Perai Municipal Council.
Since she took office early this year in Narobi, Kenya, she has already delivered some remarkable achievements including having launched a transformation process of UN-Habitat in line with the UN's overall reform aimed at raising its effectiveness on the implementation of the UN's Sustainable Development Goals (SDG) and the New Urban Agenda (NUA).
She has also succeeded in raising the profile of UN-Habitat through high-level participation in key events in particular the Ninth World Urban Forum in Kuala Lumpur while spearheading innovative, new partnerships with corporations such as the World Bank.
Integration of data
Having been involved in the planning and development of Penang in her previous role, Maimunah speaks from her experience when she tells EdgeProp.my that access to shelter and housing is still very much a challenge not only in Malaysia but globally.
While accurate and timely data is needed to address the issue of housing supply and demand especially in order to effectively deliver affordable housing, she also believes complementary data such as transport, location and job opportunities are also very much required for a deeper insight on housing issues.
"When you talk about getting data for housing, don't just look at the housing data alone. You have to connect the data to mobility, transportation, connectivity to work places and where the job opportunities are. Data from Napic (the National Property Information Centre) is limited to housing figures but without the other kinds of data, it does not tell you where you should build your affordable houses.
"There is a huge mismatch in terms of demand and supply. Wherever I go around the world, everybody says they need affordable housing. But what type of affordable housing? What kind of design? Where should it be located at? When we dig deeper, we realise we don't have such data," she opines.
Statistics, data and analysis are needed to "fit everything together". The younger generation, she adds, may not need or want to own a house but there must be access to a house or shelter.
"So it (the house) needs to be affordable to rent or even to stay short-term. Essentially, accessibility to housing is needed," says Maimunah.
ThinkCity managing director Hamdan Abdul Majeed who was also present at the interview, concurs, stating that homeownership is a choice but what's important is accessibility to housing.
"We also need a spectrum [of housing choices], so that we can make a choice. Some want smaller houses, some want bigger houses. What we need is a housing market that is modular and is able to shift. Housing is an important dimension of making the city progress. It requires an adequate amount of space to build in the city, and not away from the city, particularly for affordable housing. It must be looked at in terms of maximising the outcome for the city as opposed to maximising owners' returns," he says.
Source: EdgeProp.my