Upgrading of stretch eases travelling between Teluk Kumbar and Bayan Lepas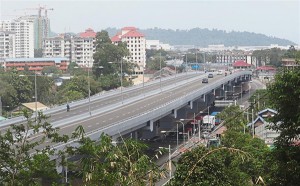 The upgrading of the federal road from Teluk Kumbar to Penang International Airport in Bayan Lepas has been completed, making commuting between the two areas faster and more convenient.
The RM207.7mil project included the upgrading of two overhead bridges, a four-lane 750m elevated structure from Jalan Teluk Kumbar to the airport and also an elevated U-turn.
The upgraded 3km four-lane road was upgraded to ease access to the second Penang bridge and to cut travelling time from 30 minutes to 10 minutes during peak hours.
The Works Ministry's corporate communications unit in a statement said the project started on February 2014 and was completed on Dec 23 last year.
"The upgrading of the road is also aimed at promoting the growth of the local economy in Teluk Kumbar and Balik Pulau."
Penang Works, Utilities and Transportation Committee chairman Lim Hock Seng thanked the Federal government for the project as it would serve the people especially in the Balik Pulau area well.
"It is a straight road and will give them direct passage.
Source: TheStar.com.my