Penang Mainland is the next investment hub. Here's why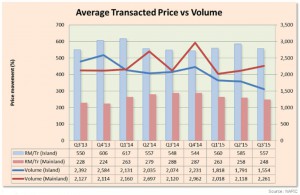 * Article by Freemen *
Following news reports on the decrease of transaction volume in the property market, many experts have been citing drops of it not only in Kuala Lumpur, but Penang as well.
Penang is a state by itself, but the island and mainland have both very different affairs.
In this graph, it's shown that demand in the island is high, which means the probability of affordable housing is relatively low. On the contrary, mainland is less crowded with low demand and a slightly higher supply than island.
From an investor's point of view, it's much more desirable to invest in the island as prices will continue to increase with demand. However, the high demand is already making island prices shoot up higher, so why fight in a saturated market?
Instead, investors should try buying in mainland because demand there is currently low and booming with oversupply. You can definitely get a deal below market price, if you look properly.
According to property expert and millionaire-maker Michael Tan, the island's properties prices have been rising continuously, especially ones near the beaches up north. That area is particularly populated by tourists and locals alike with its proximity near town centres and long beaches alongside the island. Its popularity has increased the number of hospitality developments and to cater to the growing number of demand, new resorts, hotels, and tourist centres have been popping up everywhere.
What the developers should have seen coming, though, is how quickly this would turn into a sticky situation of oversupply. Previously when house prices were predominantly very high it was easy to make a quick buck knowing the property appreciation would increase. Now prices are slowing down and its a sign that investors should be more careful on which properties to invest in, especially in the south part of Penang island.
Meanwhile, mainland is steadily catching up to its isle counterpart. Prices have been gaining more traction and the number of transactions improved as well. A lot of developers have been proposing new projects to launch soon, such as Eco Horizon by EcoWorld, mixed residential developments at Seberang Perai, Taman Nuri Emas, Kubang Semang, Simpang Ampat and more. Commercial developments are making their move too, at locations Bukit Minyak and Bukit Mertajam to name a few.
Therefore, investors should prep themselves to start doing their research on mainland. Self-study is more important than ever if you are a serious investor, because mainland is bigger and has a wide array of activity happening all the way from the north to south. You'd definitely want to know which of these will take off when the time is right.
With all these new information to digest, are you worried that you won't be able to keep up? Have no fear! With the emergence of PropTech, managing all your property has been simplified to a few taps and clicks. A future where you'd be able to oversee and organize all your properties online is no longer out of reach.
Want to know more? Property expert Michael Tan himself is keen to share all his knowledge to you! All you have to do is come for the seminar, and prepare an eager mindset to learn!
Click this link here to find out more!
– Michael Tan
[Sponsored Ad]