Atta buys land in Penang to undertake mixed development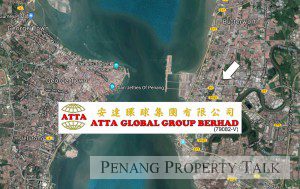 Atta Global Group Bhd is acquiring property development company Sungguh Gemilang Development Sdn Bhd for RM12 million.
In a filing with Bursa Malaysia today, the metal recycler and trader of metal related products said the proposed acquisition is a strategic move in line with its proposed diversification into property development and would generate synergistic benefits to the group.
Based in Penang, Sungguh Gemilang owns a plot of vacant freehold land in Butterworth measuring 7,100 sq m. The planning approval for the land was obtained in April 2016 while the building plan approval was granted in June 2016.
The land is valued at RM12.5 million, as indicated by Henry Butcher Malaysia in a report dated March 3, 2018 while the net book value is RM10.42 million as at Dec 31, 2017.
Sungguh Gemilang intends to develop a residential project comprising eight units of terrace houses, a 14-storey condominium and facilities.
Atta said the purchase consideration comprises cash of RM1.15 million and an assumption of liabilities of RM10.85 million.
Based on the management account for the financial year ended Dec 31, 2017, Sungguh Gemilang's net loss and net liabilities stood at RM269,870 and RM446,029 respectively.
Atta said it will fund the proposed acquisition with internally generated funds. Upon completion of the proposed acquisition, which is expected within six months, Sungguh Gemilang will be parked under Park Avenue Construction Sdn Bhd, a wholly owned subsidiary of Atta.
Source: TheSunDaily.my