Penang Property Outlook 2018
As we walked down to the memory lane of 2017, it was obviously one of the slowest year in the decade for properties. There were only a handful of new projects launched throughout the year and some were delayed. Developers were very careful with what they were launching and many were sweetening their deals with freebies, discounts and rebates. Some bigger developers were even offering innovative financial assistance schemes.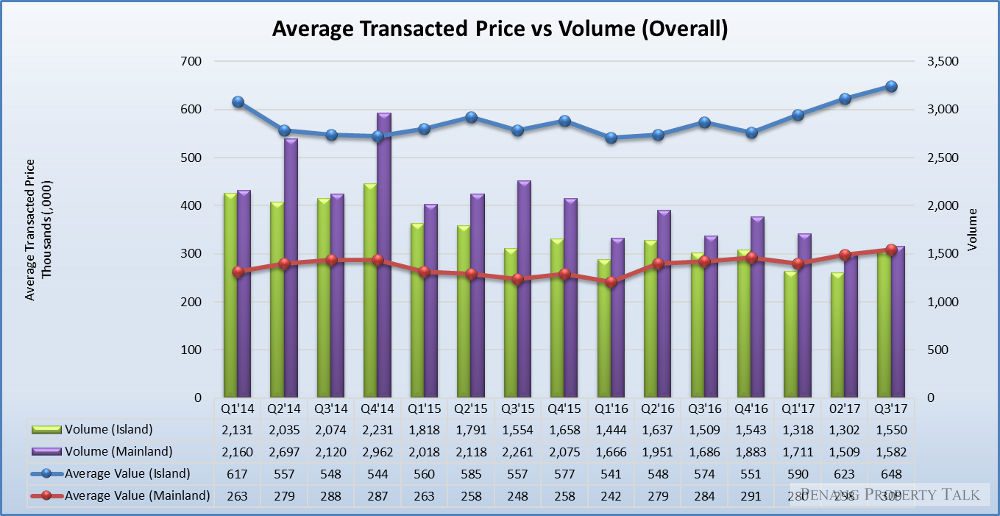 The slowdown in 2017 was evidenced in the data published by NAPIC; with approximately 15% drop in property transaction from 2016. However, the data also shown that the property prices had rises despite slow market. The average residential property transacted prices in the island and mainland for first three quarters of 2017 had increased about 12% and 10% respectively compared to the same period in 2016.
We have waved goodbye to 2017, and welcomed 2018 with open arms. Many are anxiously hoping that the market slowdown is over and 2018 will promise a new bounce-back market. Being optimistic is encouraged however the year ahead is only pointing to a continuous market slowdown trend that's unlikely to recover in short term. The housing affordability will continue to remain as a nagging issue among the average Penangites.
Housing affordability at the island city continues to be challenging
Under Budget 2018, the government has increased allocation to address rising cost of living and affordable housing issues among the lower to middle income group. This action will certainly be the only short-term measures with limited effect. The recent freeze on four components of the property market that include condominiums and serviced apartments priced RM1 million and above is a disruption to the high-end products, yet it does not get to the root to address the housing affordability issue.
While affordable homes are mushrooming across Penang targeting on affordable buyers, the current scheme appears to be inadequate to address varied demands and budget. Penang as a fast growing state is hunger for a more solid yet dynamic affordable housing scheme to assist the buyers in various aspects. Until we are fitted with a more extensive scheme, the year ahead will continue to be challenging for affordable housing buyers.
For those who have made a new year's resolution to buy a new affordable home this year, do expect several more affordable housing to be launched this year at a few new locations such as Gelugor, Batu Ferringhi, Jelutong and Bukit Mertajam. Two new PR1MA projects are likely to be launched in the island this year. Most of these upcoming affordable projects will be priced within the range of RM300k.
Oversupply in South West district
The abundance supply of affordable and mid-range housing, priced within the range of RM500k in the South West district will continue to affect the house prices in those areas, which are unlikely to improve anytime soon. This is particularly true for the condominium in areas such as Bayan Lepas, Sungai Ara, and Teluk Kumbar.
As the year 2018 is wrapped with a market slowdown trend along with oversupply in the South West district, determined buyers and investors can still consider projects with unique offering situated at strategic location as these projects will continue to outperform. Other than the prime locations at northern side of Penang Island, projects at Sungai Nibong and Queensbay area also recorded a good take up rate and are expected to continue outshining in the southern part of Penang Island.
Teluk Kumbar, is an option for those who may have a more confined budget. You may be able to find a bigger house with the same budget. The completion of the flyover connecting Jalan Bayan Lepas to Jalan Teluk Kumbar will be a catalyst for more intensive development in that area, and ultimately opening up yet more choices.
Township development in mainland
For mainland, the prevailing trends in focusing on township development will continue. With comfort and lifestyle is being emphasized, developers with huge land banks has been constructing their plan to offer a better living solution – a comfortable home with good accessibility to workplaces and daily needs, and within a safe and fun community for your family.
With many exciting developments in progress at Batu Kawan, all eyes will be on this satellite township as several projects will be completing in stages over the next few years. The construction of IKEA is expected to complete by end of this year and is slated to open in January 2019. The Ship Campus (ALC College) and KDU University College are on-track to complete by 2018 and 2019 respectively.
In order not to be missed out, several MNCs and SMEs are also expanding their manufacturing operation in Batu Kawan, namely Flextronics, HP, Sandisk, Sunningdale Tech, Boston Scientific, Vitrox and a few others.
Batu Kawan will continue make a significant attraction and focus for Penang development and it will keep the ball rolling to the possibility of being the most talked about area in the northern region of Malaysia. The blooming of Batu Kawan township could only offer endless possibilities. With developers striving into providing a better living solution, not just a home to buyers, the prices of property in Batu Kawan is anticipated to inflate within the next five years.
Food for Thought
Property market will always go up and down, the economy will always fluctuate. However, there will always be right investments to make. Over the long term, placing money into properties in Penang is a sound strategy because land is the most precious commodity in the island state.
As new high-rise building is now built taller, denser and further, the best time to buy a property is always yesterday. And the day closest to yesterday is today. To make sure you make the smart choices, you must understand property is a long term investment and be crystal clear with your financial needs and goals.
– Ken Lim
(Founder, PenangPropertyTalk.com)