Undersea tunnel project not in jeopardy, insists main concessionaire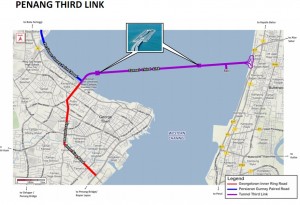 The consortium entrusted to construct the proposed undersea tunnel and two paired highways have downplayed a news report that the multi-billion ringgit project was in jeopardy following the move by one of its contractors, Mudajaya Group Bhd to withdraw from the RM810 million contract that it had won to build the two package roads.
In a filing to the stockmarket (Bursa Malaysia), Mudajaya cited "uncertainties" over the project for its withdrawal which came just days after Penang was inundated with major floods, causing economic losses, said to be around the millions.
However, Consortium Zenith Construction Sdn Bhd, the main concessionaire behind the major infrastructure project said, Mudajaya's withdrawal was mutually accepted.
Zenith's chairman Datuk Zarul Ahmad Mohd Zulkifli (pix) said that it will not pose any obstacle to the package two road construction, which will consist of a flyover linking Air Itam to the Tun Dr Lim Chong Eu Expressway.
"The tender committee of consortium is in the process of evaluating new bidders for the road, taking into account a set of criteria that best serves their commercial interests," he said.
"A decision will be made soon on the new contractor," Zarul said in a statement.
State Public Transportation and Utilities Committee chairman Lim Hock Seng told theSun that physical works of the project have yet to begin, denying there was delay to the start of construction.
He said land matters related to the project were still under consideration from relevant authorities.
"This is only between Zenith and Mudajaya," he said when he was asked to comment about the withdrawal.
Mudajaya was awarded part of the construction phase from Consortium Zenith, formerly known as Consortium Zenith BUCG Sdn Bhd.
The multi-billion ringgit undersea tunnel and its two paired roads which is designed to alleviate growing traffic congestion in Penang, has become a political hot potato.
Non-governmental organisations have protested against the project, citing its damage to the ecology while the fact that Zenith will be paid via a land reclamation venture, also became a sore point.
To top it off, the steep consultation fees imposed on the state government before the project had begun, drew the ire of many.
Source: TheSunDaily.my