Balik Pulau? Some POTENTIAL insights.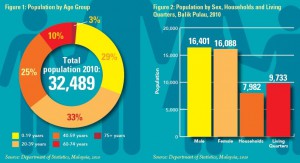 by Charles Tan
I still remember the time when I was looking to upgrade to a bigger place from my small apartment of 700 sq ft in Relau. I considered many places and Balik Pulau was one of them. There were a few projects that my wife and I drove to and one of it was Botanica. CT by MTT Properties & Development Sdn Bhd. The price for a terrace home then was below RM300k if I remember correctly. At the time, the construction was going on feverishly. It took my wife and I around 45 minutes to reach the place from our home in Relau via the Bukit Jambul hill road. Frankly, at the time, I love the space that Botanica 1 terrace home was offering, as well as the potential capital appreciation because this is still a landed property and Penang island is still just an island. 🙂  My wife said, 'It's far.' I reminded her that even when we were staying in Relau, it still took her at least 30 minutes to reach her office in Bayan Lepas. Anyway, she won the argument, we did not buy it then and recently, I told her that the price of the same unit we saw has doubled. 'We should have bought a unit,' was her answer. Haha.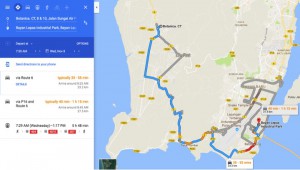 Let's look at the latest stats about the actual travelling time. We ask our most reliable friend, GoogleMaps. By the way, I do not usually believe what my friend tells me about travelling time because once we are used to a certain area, the travelling time somehow shorten tremendously! Let us look at a typical weekday. We also look at the typical time that my wife used to leave our home in Relau previously. You can see that the time needed for the journey from Balik Pulau to the Bayan Lepas Industrial area is between 35-55 minutes. Please do look closely and you would realise that the JAM is actually within the Bayan Lepas area and not along the road from Balik Pulau. In other words, whether we stay in Balik Pulau or we stay in Batu Maung, we will still face the same jam. Seriously, I think travelling time is not the main reason why we should buy a place.  My old friend who stays in Balik Pulau told me she does not feel the duration because she has travelled the same road for 10 years!
Beyond this, Balik Pulau has a few more POTENTIAL insights. Let's look at a few of them shall we.
Potential capital appreciation – Balik Pulau is still growing and has lots of room to grow still. Please do not ask me if prices would double again within the next 10 years. Seriously, you should not believe anyone telling you that it will double in price. However, just ask Penangite if they believe that property prices would stop rising and the answer is definitely a NO.
Prince of Wales Island International School (POWIIS)- It is not easy to run an international school if there are insufficient students. There are insufficient students when parents refuse to send their children there, probably because it is not good, too far or even just because they were not staying nearby. POWIIS today? Take a look at it today. https://www.powiis.edu.my/ I think it has grown tremendously and is now very prominent in Penang.
Continuous developments – Balik Pulau has become a magnet for developers who are eyeing developments within the Penang island. Big names, small names and even boutique ones. The reason is a similar one. They are building because the demand is growing. The demand is growing because people are now thinking of Balik Pulau as just another choice within the island. This by itself is an awesome reason.
Penang island is still an island – If we love to live in the island and thinks of mainland as a second choice, then just note that the available land for development within the island is not growing, except for the reclamations which I believe you are also aware of the price per sq ft that is being offered today. In terms of affordability vs size vs duration, it's obvious that there are just a few choices left currently.
Durians – This is just a funny reason but hey, every year we get access to durians by being closest to the source. Seriously, durians will become a luxury because the Chinese from China are coming here to taste them. This is the reason why it may be tough for the durians to even leave Balik Pulau in the future because there is just not enough to go around.
Additional statistics? From my good friend's site. miichaelyeoh.com
According to Department of statistic as of the year 2010 the total population in the area are 32,489. Today definitely the figure is much more.
Happy looking for your home sweet home, especially for a growing family and new couples. This is going to be a long term investment and not just buying a property. Cheers.
>> This guest article comes courtesy of my friend, Charles, the founder of kopiandproperty.com. He is popular for sharing his thought on property investment mostly based on his own 14 years experience as well as from all the readings and conversations with property gurus in the industry. (Source)