Government's affordable houses may pose future threat to private developers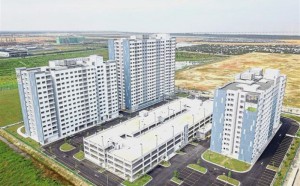 The government's affordable housing schemes for Malaysians could in the future be a threat to private developers who will not be able to match the lower subsidised prices, Rehda Institute has said.
Datuk Jeffrey Ng Tiong Lip, chairman of the Real Estate and Housing Developers' Association's (Rehda) research arm, said that the government's affordable housing schemes are currently not a threat to private developers.
He pointed out that private developers had in the past decade up until 2014 mostly built high-end and larger condominium units, but had only adjusted in the past few years to rolling out projects in the affordable housing category in order to survive the downturn.
But private developers' previous disinterest in building affordable housing had resulted in a gap between demand and supply of such homes for Malaysians, he said.
"As at today the gap where PR1MA homes and so many federal, state, local authority, ministry housing schemes have been able to fill the gap where private developers are only starting to adjust
"Even buying land for affordable homes takes time to buy a land, takes time to get approval, so that so-called gestation have then led to this gap, where it was filled up very nicely by the government and participating entities," the former Rehda chairman said at the Rehda Institute CEO Series 2017 yesterday.
"Now whilst I say that today it is not a threat, but moving forward we cannot say the same thing because as private sector developers start to roll out affordable homes, you will find that public sector developers or housing schemes versus private developers doing affordable homes, we are going to see an unlevel playing field," he added.
Ng was responding to a question during a panel discussion, on whether developers view government initiatives for affordable housing as a threat and distortion of the property market or if it is considered as a market segment that private developers are unable to serve.
Later when speaking to the media, Ng noted long-term demand for housing will remain strong as the Malaysian population is relatively young and the younger generation are growing their income, adding that the public sector's affordable housing schemes are "very welcoming".
"From Rehda's perspective, we definitely don't see it as a threat today because the gap are being actually filled up, meeting up the demand. Bear in mind that demand is growing, supply needs to grow," he said.
But when the gap between demand and supply starts to narrow as the private sector builds more affordable housing, it would result in competition between the private sector and the public sector, he said.
"Hopefully there will not be unhealthy competition, bear in mind PR1MA homes are selling homes at subsidised prices, subsidised by the government. And if private sector goes into the market, tries to sell it at a different price versus the subsidised price, you will roughly guess who is the winner and who are the losers.
"So what we are saying here is no issue today, but moving forward, I think we will have to address the issue as we move along because of this unlevel playing field," he reiterated.
Ng believes that the government should play a different role instead, and work towards being a facilitator and provider of incentives to grow the market and to bring in new investment, instead of competing with the private sector.
"It's going to be a zero-sum game because someone has to lose if that continues. I think this is a problem that I think we would like to address in the future, not today," he said earlier during the panel discussion.
Source: The Malay Mail Online