Mutiara Rini may have to be demolised and rebuilt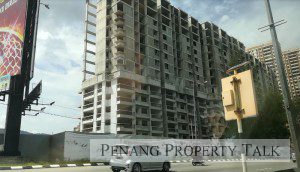 The Penang state government has directed a developer to demolish a partly-complete apartment building and rebuild this for safety reasons, said Chief Minister Lim Guan Eng.
He said the state government was not satisfied with the safety standard of the building by JKP Sdn Bhd
"JKP has agreed to demolish it and this building will be demolished by the end of this month," he told reporters when he visited the site in Kampung Pisang Awak in Jelutong this morning.
He said there were rumours being spread regarding the low-cost project, so he had to explain what was happening with the project.
The low cost flat was supposed to be a 17-storey building with 192 low-cost units and 192 medium-cost units.
Construction started in late 2015 and was suspended last December after JKP found issues with the materials used by the contractor.
"The materials used were not according to specifications and as a responsible developer, we feel that what's most important is safety so we have decided to demolish this building by the end of this month," said JKP chief executive officer Samrulzaman K.Mohideen who was also at the site.
He said it will take about four months for the building to be completely demolished.
The project, Mutiara Ria, had been scheduled for completion at the end of this year.
Lim said JKP also has another adjacent project that used the same materials, Mutiara Rini.
Mutiara Rini is an affordable housing project with 24 storeys and has a total 382 units. It is now partially constructed till the 15th floor, but construction was also suspended in December last year.
"We feel that the other block should also be demolished as the same materials were used for it," Lim said.
Lim said this would give owners peace of mind.
Samrulzaman said they are still investigating Mutiara Rini to decide the next course of action.
"There is a possibility that we need to demolish it but this will depend on the conclusion of our investigations into the structure first," he said.
Due to these issues, Samrulzaman said both projects costing a total of RM120 million will be delayed by about three years.
Source: Malay Mail Online