Seri Tanjung Pinang Phase 2A reclamation to complete in 2H 2018, first launch in 2019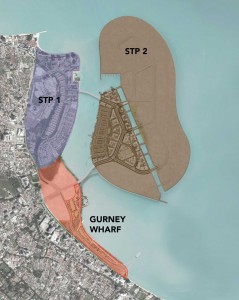 Eastern & Oriental Bhd's (E&O) net profit increased 6.5-fold to RM21.24mil for the first quarter of the financial year ending March 31, 2018 from RM3.24mil in the corresponding period last year.
The lifestyle property developer attributed its earnings growth to its property segment, which witnessed higher revenue recognition from ongoing projects namely The Tamarind, the Amaris Terraces and the Ariza Seafront Terrace in Seri Tanjung Pinang (STP), Penang as well as an increase in the sale of completed properties.
E&O managing director Kok Tuck Cheong said: "Notwithstanding the prevailing property market conditions, there has been encouraging support for our properties in Seri Tanjung Pinang which has buoyed the group's performance in the first quarter."
During the quarter under review, E&O's earnings per share rose to 1.66 sen from 0.26 sen in the corresponding period last year.
The group's revenue rose about 6% to RM173.44mil in 1Q18 from RM163.31mil in 1Q17.
Going forward, E&O said it would continue to pursue the sale of completed properties and the reclamation of Seri Tanjung Pinang Phase 2A (STP2A) in preparation for the launch of projects in 2019. STP2A reclamation works were slated for completion in the second half of 2018.
"Timing is important and we are monitoring the market closely," Kok said of the group's upcoming projects.
Kok said that in tandem with the group's focus on mobilising its inventory of completed properties, there were also concerted efforts towards realising the STP2A project.
He said the reclamation works for STP2A was progressing with more than 75% of the island being reclaimed.
Earlier this month, E&O shareholders sanctioned the RM766mil sale of a portion of STP2A to KWAP Inc, paving the way for the group to unlock the value of its investment in STP2A and importantly, further reinvest into the development of STP2A.
E&O noted that while property market conditions continued to be challenging, it had achieved encouraging take-up rates with its projects in Seri Tanjung Pinang. This included the positive response received for The Tamarind and Ariza Seafront Terraces phase two.
E&O said it would continue to evaluate existing assets as part of ongoing efforts to monitor cashflow while maintaining a manageable gearing level to strengthen its financial position.
Source: TheStar.com.my