Call to scrap proposed North Coast Paired Road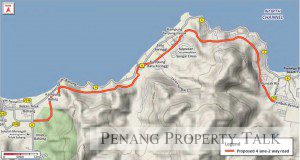 Tanjung Bungah residents want the proposed new road from Teluk Bahang to their neighbourhood scrapped after realising it entails deforestation and construction on slopes with gradients steeper than 25 degree.
Through the Tanjung Bungah Residents Association (TBRA), 400 of them signed a petition against the North Coastal Paired Road (NCPR).
TBRA chairman Meenakshi Raman said the environmental impact assessment (EIA) showed that 3.34ha of gazetted forest reserve will be cleared for the road.
"Tracts of the Teluk Bahang Forest Reserve and Bukit Kerajaan Forest Reserve will be deforested. How can this be allowed?" Meenakshi said during a press conference at the Tanjung Bungah market yesterday.
She said the EIA revealed that 46% of the proposed road would be on slopes with gradients higher than 25 degrees.
"The EIA is clear that slope instability risks will be high. Mitigation measures are suggested, but haven't we learnt enough about Penang's development? The island is sensitive to landslides," she said.
The residents urged the Department of Environment (DoE) in writing not to approve the EIA. A copy of the letter was also forwarded to Chief Minister Lim Guan Eng on Aug 21.
The NCPR is a 10.53km four-lane road that is part of the Penang Transport Master Plan and is under the purview of Consortium Zenith Construction. It is part of the traffic dispersal system of the Penang Undersea Tunnel project.
The residents are also confounded by the cost. Meenakshi said in 2011, the estimated construction cost and land acquisition cost of the NCPR was RM1bil.
She felt the EIA should have included a cost-to-benefit analysis and "for RM1bil, can't we think of other alternatives to the traffic problem?"
In response, state exco member Lim Hock Seng clarified that the clearing of the forest reserves was studied in the EIA as a requirement, but the state is planning to avoid it.
"The first phase of NCPR is from Batu Ferringhi to Tanjung Bungah. The Teluk Bahang stretch, where the forest reserves are, won't happen so soon.
"Although it is studied in the EIA, we do plan to continue examining alternatives and avoid deforestation," said Lim.
Source: TheStar.com.my