Residents divided over coastal route
Penangites alo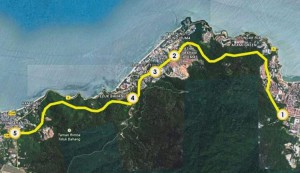 the island's north coast seem divided over the North Coastal Paired Road (NCPR) project.
Some residents in Tanjung Bungah want the road plan scrapped but many in Batu Ferringhi and Teluk Bahang want it as soon as possible.
"Do you know what it was like after the recent big landslide? We were cut off for two weeks. No fuel, no groceries.
"That day, my son had to take his SPM exams and I took him to school by travelling in a big round through Balik Pulau," said Penang Nature Tourist Guides Association chairman Fauzi Mohd Yacob in Teluk Bahang.
He was referring to twin disasters on Nov 7 when a landslide buried the road between Teluk Bahang and Batu Ferringhi while another road section fell into the sea after a downpour.
"I'm a nature guide and if you want to cut down a tree, I will say no.
"But there is a difference between a need and a want. And the NCPR is needed," Fauzi said.
A team from The Star spoke to residents, shopkeepers, fishermen and taxi drivers on Monday to get their views on the NCPR.
Food stall owner Sharifah Feisol, 54, from Batu Ferringhi, said she once saw an ambulance with siren blaring stuck in traffic.
"It tried to squeeze through the jam but the road was too narrow and the cars had no space to make way for it. It was a nightmare!"
Fisherman Wong Tien Swee, 35, felt that people should not object to the NCPR unless they live in the northwestern corner of the island.
"Just one small accident along the way and the lorries to collect our fish will be hours late," he said.
Taxi driver Loo Ah Huat, 81, said he had been servicing Batu Ferringhi for the past 50 years and watched the traffic problems grow.
"On weekends or holidays or after an accident, the whole way from Hard Rock Hotel to the Tanjung Bungah floating mosque will be heavily jammed. We need a new road now."
But in Tanjung Bungah, a few residents expressed fears that the NCPR might bring traffic from Teluk Bahang and Batu Ferringhi to the Vale of Tempe area.
Retired teacher Ong Nyuk Foong, 59, argued that Jalan Lembah Permai was already congested with new housing developments, an international school and university college.
"The NCPR will make it worse. We don't want it," she said.
It was reported in The Star on Monday that the Tanjung Bungah Residents Association got 400 people to sign a petition and wrote to the Department of Environment, urging it not to approve the detailed environmental impact assessment report of the road.
It listed several grounds for objection including the cost-to- benefit, deforestation, construction on slopes steeper than 25 degrees, noise and air pollution.
The NCPR is a 10.53km four-lane road built on hill slopes starting from near SK Teluk Bahang and ending at the L-shaped bend of Jalan Lembah Permai at Sri Vazhikattum Muniswarar Temple in Tanjung Bungah.
Source: TheStar.com.my