Penang state govt takes measures to lower prices for residential units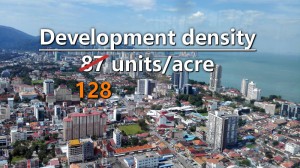 The state government has increased the development density to 128 units per acre up from 87 units per acre as part of measures to cushion the unfavorable economic impact on developers and to lower prices for residential units.
Penang Housing, Town and Country Planning Committee chairman Jagdeep Singh said units built under this guideline cannot be less than 900sq ft and not cost less than RM400,000.
He said developers found it difficult to sell bigger size units under the 87 units per acre guideline as a 1,400sq ft unit was priced at more than RM900,000 in some cases.
Jagdeep reasoned the higher density was allowed since the higher the density, the smaller the unit size and the smaller the unit the cheaper the price.
He nonetheless said the requirements for having affordable housing elements and low-cost (LC) and low-medium cost (LMC) components under the new guideline was maintained.
"So across the board I am going to get more affordable units, this is a win-win," he said in a press conference on Monday night after attending the annual Penang Real Estate Housing Developers (REHDA) annual dinner.
Asked to elaborate, Jagdeep said the floor price of RM400,000 was set so developers building projects under the increased guidelines would not compete with developers who were building 100% affordable housing projects.
Source: TheSundaily.my