7 Upcoming Projects at Sungai Nibong in 2017 / 2018
Following the unveiling of Penang Transport Master Plan, developers are eyeing for opportunities near LRT stations. This is particularly obvious in Sungai Nibong where there were at least 7 projects proposed by 6 developers in the past 12 months, with the exception that there is still no official plan submitted by SP Setia for Setia Sky Hill.
If you insist you must buy a property near LRT station and within close proximity to schools, these are the projects you should keep a very close eye for their upcoming launches in 2017 / 2018.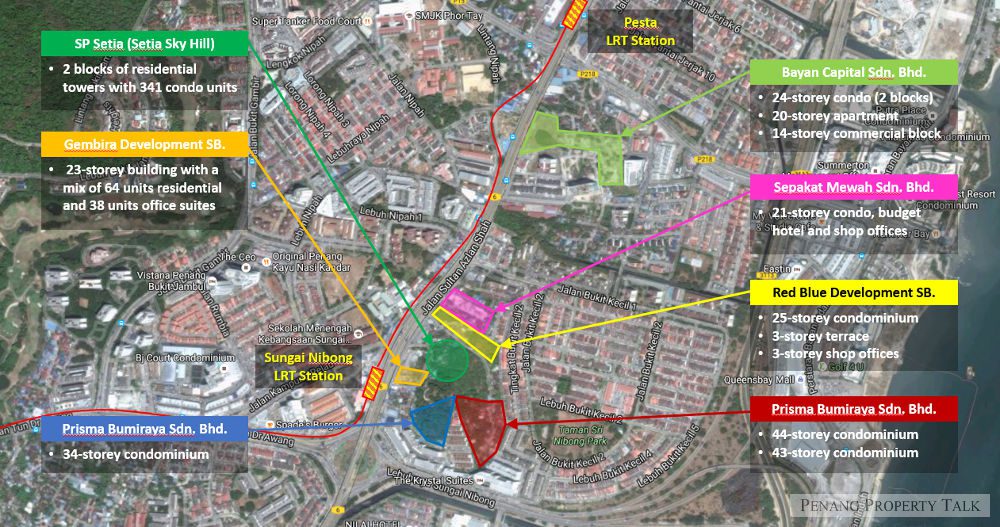 Register your interest here, we will keep you posted with latest updates on these projects
You may also find out more details from the respective project post below:
1. SP Setia (Setia Sky Hill)
Two blocks of residential towers with 341 condominium units
2. Gembira Development Sdn. Bhd.
23-storey commercial building with a mix of 64 units residential and 38 units office suites
3. Prisma Bumiraya Sdn. Bhd.
Single block of 34-storey building, offering 197 condominium units with facilities located at rooftop.
4. Bayan Capital Sdn. Bhd.
To be developed in four parcels, with a mix of affordable housing and commercial components.
5. Sepakat Mewah Sdn. Bhd.
21-storey building comprising condominium, budget hotel, shop offices.
6. Red Blue Development Sdn. Bhd.
Comprises a 25-storey condominium, 3-storey terrace houses and shop offices.
7. Prisma Bumiraya Sdn. Bhd.
Two 43 & 44-storey skyscrapers, offering a total of 369 residential units. (more details to be available soon)